100+ Cute and Small Tattoos for Girls
Cute and small tattoos for girls can be easily hidden and can be placed in any area of your body.
Cute and small tattoos for girls can be easily hidden and can be placed in any area of your body. It is a fact that girls love cute tattoos which have images and connotations that are related to their lives. Small tattoos express boldness and they look appealing too.
Chances are, at some point in your life you will consider having a small tattoo. These small tattoos will never cause any regret and can last the test of time. Getting small tattoos are commonly popular for girls who are not yet ready to commit to a huge piece of work. Most likely, girls would want to have simple designs that can look great for more decades to come. Moreover, they want something that is meaningful and can remind them of the significant events, persons and ideas in their lives. Every time they look at the tattoo they will be reminded of its significance.
If you're still starting to have a tattoo then the best way is to get something small. Always remember that tattoo removal is not easy. Fortunately, we have endless choices for girl tattoos whether the tattoo is on wrist, neck, back, leg or any other body part the girl wants her piece of art. Whether you're looking for a fun design or something that is meaningful, you can check out these cute and small tattoo ideas for girls for inspiration!
Cute and Small Tattoos for Girls
1. 3D Butterfly Tattoo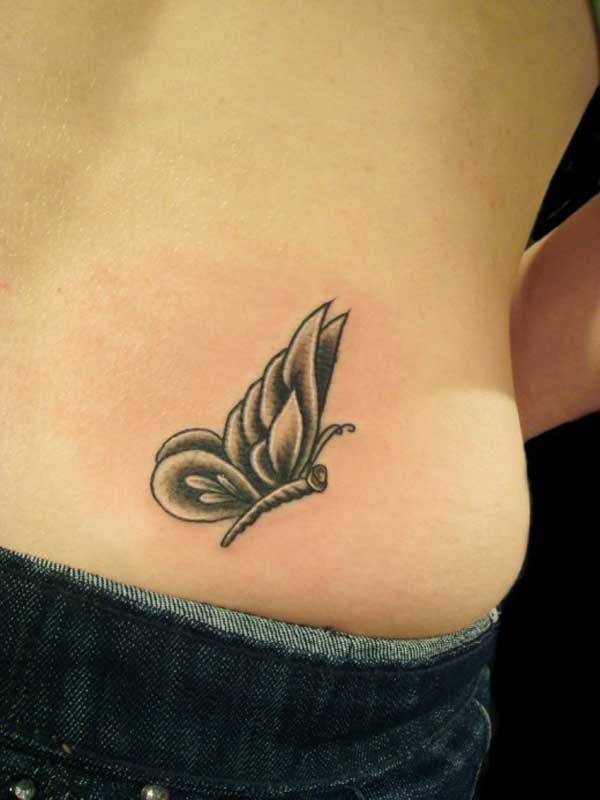 Originally posted by 3d-hd-tattoos
A butterfly tattoo is the best representation of growth and rebirth.
2. 3D Cute Little Tattoo

A dream is a wish your heart makes.
3. 3D Small Tattoo For Girls
Originally posted by 3d-womentattoo
Bow tattoos are very feminine.
4. 3D Tattoo For Girls
Originally posted by galknows
A butterfly represents grace and transformation.  From being a not so beautiful caterpillar, they change into an attractive butterfly.
5. Amazing Tattoos For Girls
Originally posted by popsugar
This is a lovely Lotus tattoo.
6. Arrow Foot Tattoo

The arrow symbolizes focus in order to achieve your goal with confidence.
7. Arrow with Bird Feather Tattoo

The bird feather hanging in the arrow creates a mesmerizing effect.
8. Arrow Tattoo For Girls

The fine and delicate lines of the arrow works best on this tattoo.
9. Asterisks Tattoo

This is an elegant design created across the chest.
10. Best Female Tattoos

More and more people have loved and practiced tattoos.
11. Ear Tattoo

Tattoos for girls have become a fashion icon.
12. A Tiger's Roar

Small tattoos provide attraction which is ideal for feminine beauty.
13. Best Tiny Tattoos

Heart tattoos are commonly a symbol of love.
14.  Birds Tattoo

Small tattoos generally incorporate various symbols and designs which are very meaningful.
15. Butterfly Tattoo Design

A butterfly tattoo is quite common among celebrities including Brandy, Mariah Carey, and Drew Barrymore.
16. Cherry Blossom Tattoo
Originally posted by slodive
A very stylish cherry blossom vine tattoo.
17. Chest Tattoo Design
Originally posted by inkme.tattoo
Getting a tattoo between or under the breast is becoming popular nowadays.  Rihanna has a tattoo on her chest and it makes her look sexy.
18. Claw Tattoo

A lovely twist from the usual paw prints.
19. Cool Tattoos For Girls With Meaning

This is a personal initial tattoo.
20. Cross Tattoo Designs

A cross tattoo can be accompanied with other symbols.
21. Cute And Small Tattoos For Girls

The right note for music lovers.
22. Cute Arrow Tattoo

Nowadays, tattoos for girls are socially accepted because most celebrities are wearing them.
23. Cute Girls Tattoos

For animal lovers.
24. Cute Humming Bird Tattoo
Originally posted by garant-ps
Feminine tattoos are not shocking anymore and ladies are no longer criticized based on their body ink.
25. Cute Small Tattoo Designs

Girl's tattoo designs are less aggressive compared to men's  tattoo designs.
26. Cute Small Tattoo Designs For Women

You only live once.
27. Cute Small Tattoos
Originally posted by pinterest
Believe.
28. Heartbeat

Smaller tattoos are mostly chosen by tattoo lovers because they are very affordable.
29. Cute Cross

Small tattoos are very easy to conceal in case you need to for your work.
30. Jewish Star

One of the most popular areas for smaller tattoos is the finger and wrist.
31. Cute Small Tattoos With Meaning

The crowning glory.
32. Cute Star Tattoo For Girls
Originally posted by shadibeautytips
Star tattoos have existed even before and is considered as one of the oldest tattoo designs.
33. Cute Tattoo

This cute elephant is playing with water.
34. Cute Tattoo Ideas
Originally posted by theceleb
A small tattoo can look elegant on girls.
35. Cute Tattoos For Girls
Originally posted by tattoo-models
An amazing flower finger tattoo.
36. Moon Tattoo

This crescent moon tattoo is done in a tribal design.
37. Dove Tattoo

oves are usually used in weddings since they symbolize peace, love and the start of a new life together.
38. Elephant With Umbrella

A small tattoo will not offend anyone.
39. Feather Tattoo For Girls

If you wish to keep it simple then get a small yet meaningful tattoo.
40. Tribal Tattoo

There are a lot of designs for small tattoos for girls, be sure to choose the appropriate symbol.
41. Flowering Lotus

If you look closely at the design, you will notice that it is being shaded with dots.  This style can be time-consuming, however, the result is awesome.
42. Flowers Tattoos

Rose tattoos are adored by both women and men.
43. Foot Tattoo For Girls

Twinkling stars on your foot can create a sexy fashion statement.
44. Fruit Tattoo

Most often, people wonder what is the story behind your tattoo.
45. Ghost Tattoo Design

The ghost tattoo is fun yet not too spooky.
46. Girls Small Tattoos

This is a reminder that you should keep on climbing those mountains.
47. Hearts Tattoo

Obviously, heart tattoos are the typical symbol of love.
48. Small Heart
Originally posted by buzzfeed
Hearts convey love and passion.
49.  Tribal Tattoo Designs

Tribal sun tattoo is a symbol of endurance, strength, and transformation.
50. Lion Tattoos for Girls

A lion symbolizes courage, loyalty and being strong willed.
51. Mandala Tattoo For Girls

Flower tattoos represent nature.
52. Number Tattoos For Girls

This is small and simple yet very meaningful to the wearer.
53. Number Tattoos

A significant number to the wearer.
54. Owl Tattoo
Originally posted by hd-tattoos
Owl tattoo is a symbol of wisdom.
55. Owl Tattooing

The Native Americans have a belief that the owl is the protector of sacred knowledge.
56. Pineapple Tattoo Designs

Fruit tattoos are filled with meanings.
57. QR Code Tattoo

You can make this personalized by incorporating your email address, phone number or other text.
58. Queen Of Heart

Heart tattoos have been a popular design even during the early days.
59. Quotes Tattoos For Girls

Love me for who I am.
60. Yin Yang Tattoos for Girls

Small tattoos are usually placed on the neck, wrist, hand or foot.
61. White Tattoo Ink

This tattoo means that it is not yet over and you can expect more to come.
62. Rabbit Tattoo

A rabbit tattoo is a symbol of comfort and abundance.
63. Rabbit Tattoos for Girls

This is a nice black tattoo for rabbit lovers.
64. Foot Tattoo

A symbol of balance.
65. Rose Tattoo

In the ancient Persian culture, roses are a symbol of love and passion.
66. Butterfly Tattoo

Butterfly are very popular among girls since they are beautiful and they symbolize transformation.
67. Guitar Tattoo

Any simple tattoos can  look great.
68. Skull and Cross

Skulls can mean a lot of things yet it can also be used as an artistic expression.
69. Small Bird Tattoo

Small tattoos are less noticeable.
70. Small Butterfly Tattoo

Butterfly tattoos are beautiful and delicate.
71. Small Coconut Tattoo Design

A coconut symbolizes protection since its fruits is hard to get due to its enormous height.
72. Small Cute Butterfly Tattoo

This is an ideal tattoo design for girls.
73. Small Elephant

The feet is one of the most popular placements for tattoos for girls.
74. Small Flower Tattoo

Aside from choosing an attractive tattoo design, you must also be familiar with its meaning.
75. Clam Shell Small Tattoo

Adding tattoos to the feet make it look prettier.
76. Xoxo

An elegant and stylish tattoo for everyone.
77. Small Heart Tattoo On Wrist

The human heart is what keeps us alive.
78. Small Infinity Tattoo On Finger

Infinity symbolizes unending possibilities in life.
79. Birds Tattoos for Girls

Bird tattoos come in various shapes and sizes.
80. Little Feather

Feather tattoos do not only look beautiful but they are also rich in history.
81. Small Rose Tattoo For Girls
Originally posted by poptattoos
Rose tattoos can be simple or complex yet we cannot deny that it is definitely a thing of beauty.
82. Smile Tattoo

Sometimes word tattoos can be combined with design elements.
83. Tribal Tattoo Designs

Tribal tattoos designs can either be bold or delicate.
84. Small Tattoo Designs For Women

Where you invest your love, you invest your life.
85. Small Tattoos For Girls

This is a good choice for photographers.
86. Symbolic Tattoo

For all the Harry Potter fanatics.
87. Small Tattoos For Girls With Meaning

A heartbeat tattoo is one of the most creative and cool tattoo ideas.
88. Small Rose Tattoos for Girls

Aside from love, roses also signifies passion and strength.
89. Small Ship Tattoo

Regardless of its size, it still looks amazing with its fine details.
90. Small and Simple

Lotus flowers are the symbol of purity and rebirth.
91. Peter Pan

Perfect for the child in you!
92. Symbolic Quote Tattoos

Refuse to sink.
93. Symbolic Tattoo For Girls

This tattoo represents her MA degree accomplishment in linguistics.
94. The Constellations

Perfect tattoo idea for all the astronomy lovers out there.
95. Diamond Tattoo

Diamonds represent beauty and wealth.
96. A Cute Tiger's Head

The artist has done an excellent job in this tattoo.
97.  A World Map Tattoo

This is a perfect tattoo for the travelers.
98. Wanderlust Tattoo

The wanderlust word tattoo is ideal for travelers.
99. Sparrow

Whether it's black or colored, a sparrow tattoo is still an amazing idea for a small tattoo.
100. Crescent Moon

Ankles are the best area for small tattoo ideas.
101. Wrist Tattoo

The wrist is a common place for a small and cute tattoo.
102. Just Live

The collar bone is the best placement for this tattoo.
103. No Fear

This word tattoo really looks nice on the feet.
104. Celtic Triskelion

Tattoos on the foot can be easily concealed.
105. Small Balloon Tattoo

This one looks very cute!
106. The Cheshire Cat

I bet the wearer of this tattoo loves Alice in Wonderland.
107. Three Hearts Tattoo

The three hearts in different sizes are simply done in an outline style.
108. Tree Tattoo

In most cultures, trees are considered as sacred.
109. Tribal Lotus

The lotus tattoo is not only beautiful and popular but it is filled with several meanings.
110. Tribal Lotus Tattoo

The lotus is a symbol of purity and divine beauty.
Most Common Designs of Small Tattoos for Girls
There are a lot of designs that can be used. In fact, the choices are endless. One of the most common designs of small tattoos that are perfect for girls is the flower tattoo. It can range from different types of flowers and can be inked on the wrist, spine, or stretched on the arm. The hearts tattoo is also another popular design which depicts love. It can be inked in red, pink or black colors. Whatever design you choose, be sure that you are acquainted with its meaning.
Word tattoos are also common among girls, we have seen many cases where mothers and daughters get one with a tattoo quote. It can either be a romantic word or an inspiring word done in a creative font chosen by you. Butterfly tattoos are also preferred by girls. Sometimes you can also include some flowers on it. Other designs include swallow and dreamcatcher tattoo designs. Whatever tattoo design you choose, ensure that it will look amazing even if it is small.
Always remember that at the end of the day, choosing the right tattoos for girls is entirely up to you. There might be meanings behind these tattoos but it is expected that to you it can mean entirely different. It all comes down to your own personal decision. Most people think that there are more men who have tattoos compared to women. However, it is contrary to the latest survey which states that there are more tattooed women than men. Tattoos are one of the best ways of expressing yourself. Show us your piece of art in the comments below!