Thigh tattoos have become a very popular choice for women. You can have tattoos on the front of the thigh, all the way around or just on the back. Back of thigh tattoos are super stylish, sexy and can be covered up or shown off. We love these tattoos and think you will too so, we have found 23 of the best designs. There is something to suit everyone, from bows to flowers.
Back of Thigh Tattoo with Bows and Roses
Our first thigh tattoo idea is this bows and roses design. Bows are a popular choice for thigh tattoos but the addition of the roses make them more unique. We love the delicate design of the bows. The overall looks is pretty and feminine. Tattoos like these will suit everyone.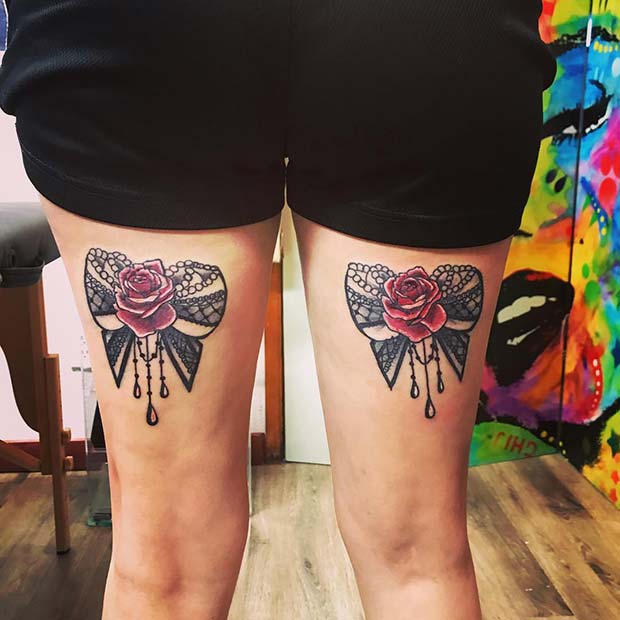 Ornamental Garter Tattoo
Next, we have a very sexy back of thigh tattoo idea. This design is an ornamental garter. It is tattooed all the way around the thigh from front to back. You can recreate a similar design or you can have more of a traditional garter or just choose a different pattern.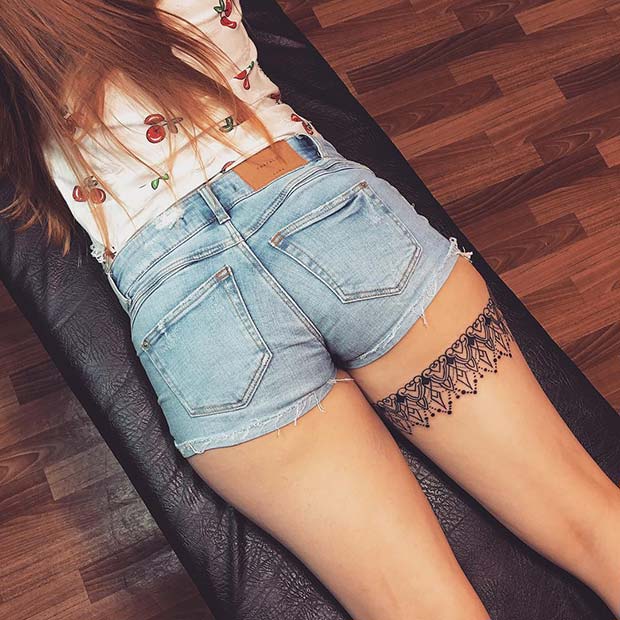 Sun and Moon
The sun and the moon have inspired many tattoo designs and here is an awesome example. On the back of each thigh there is one sun and one moon. The design is delicate, pretty and has a stylish jewelry feature. Tattoos like this will suit anyone, you can also just choose one design instead of both.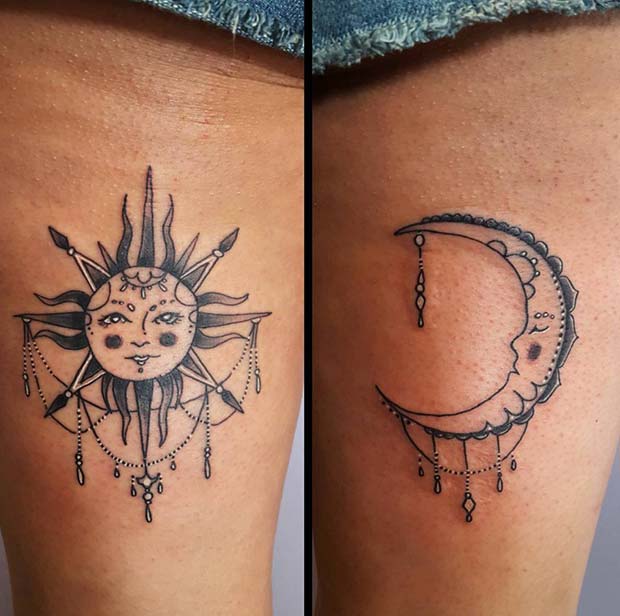 Colorful Butterfly Tattoo Design
Our next idea is a beautiful butterfly. The butterfly features bold patterns and colors but you can choose a more realistic design. If you want to make a statement, go for a large design like featured but for a more subtle look, you can have a smaller butterfly tattooed. We love butterfly tattoos because they represent freedom, transformation and faith.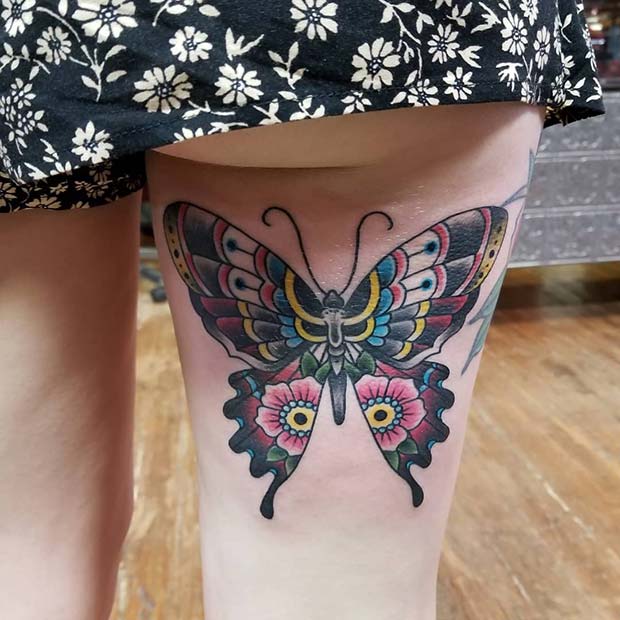 Bold, From Thigh to Foot Tattoo
If you are looking for a large, statement piece then this next idea is for you. Here we have a tattoo that starts on the back of the thigh and ends at the back of the foot. The patterns used all the way down the leg look amazing. It is such a stylish, wow piece. You can take inspiration from this and create your own design with any patterns and shapes of your choice.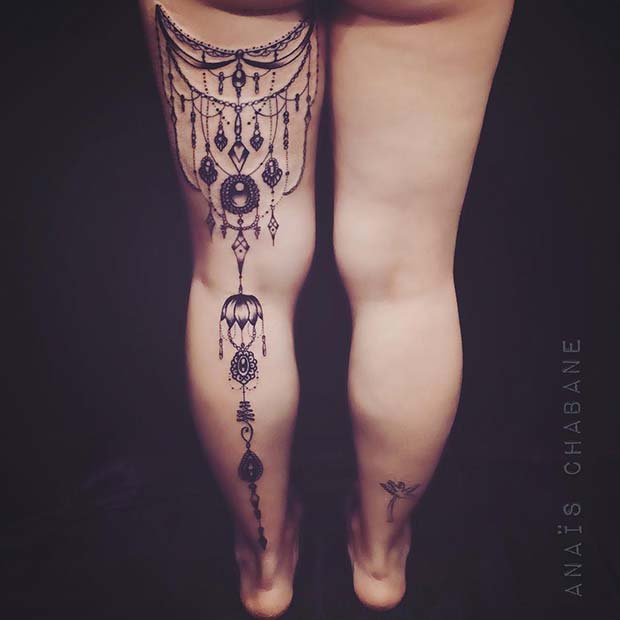 Traditional Swallow Thigh Tattoos
Tattoo techniques and designs have changed throughout the years. Our next tattoo is going back a little to create a traditional look. These thigh tattoos feature old school swallows. We love this idea because the traditional tattoos look so stylish. This is a cute design idea that will suit anyone.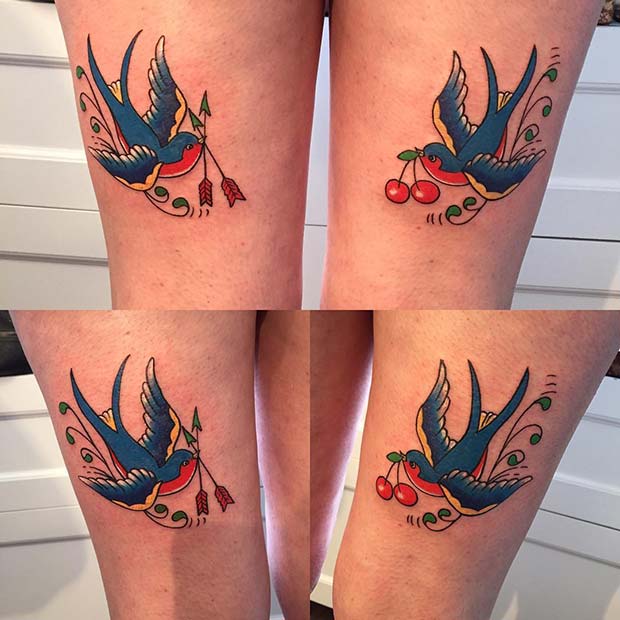 Back of Thigh Crown Tattoo
Get a tattoo fit for a stylish Queen with this crown design idea. The back of the thigh has been tattooed with a very regal crown. You can have a similar design created or perhaps consider a smaller crown. Maybe you could even add some color.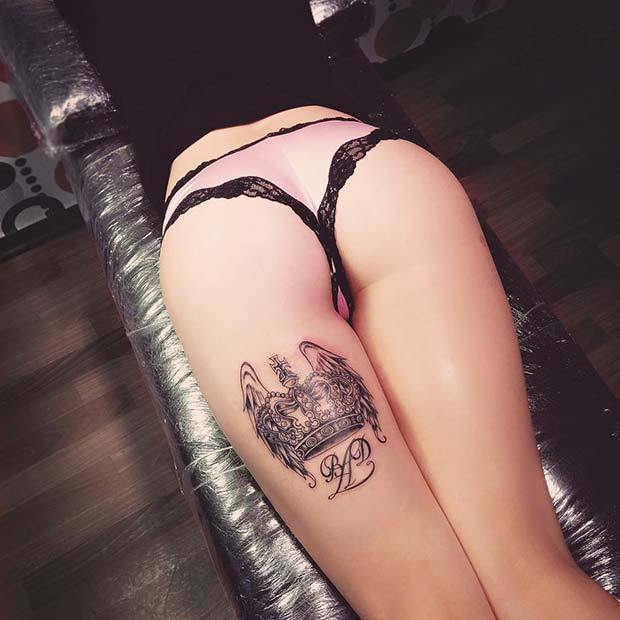 Witch Craft Back of Thigh Tattoo
Quotes and sayings are very popular, especially for thigh tattoos. This tattoo features the word witch on one thigh and craft on the other. It is a unique and awesome tattoo that would suit anyone. You can have any words or quotes designed.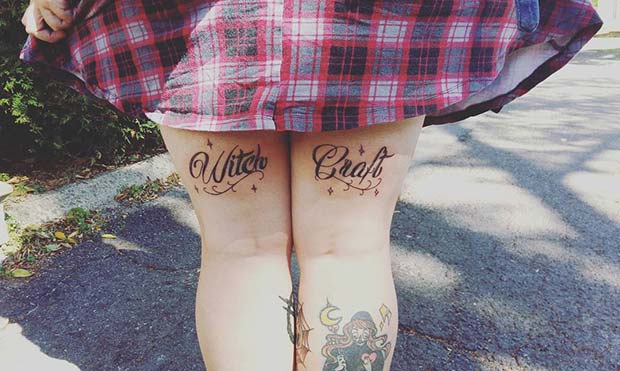 Rose Thigh Tattoo
Next, we have a rose idea for your thigh.  Roses create very feminine tattoos so it is no surprise that these beautiful flowers are popular in tattoo designs. It is a very detailed and amazing piece. You can have a dark tattoo like this, or you can add some color.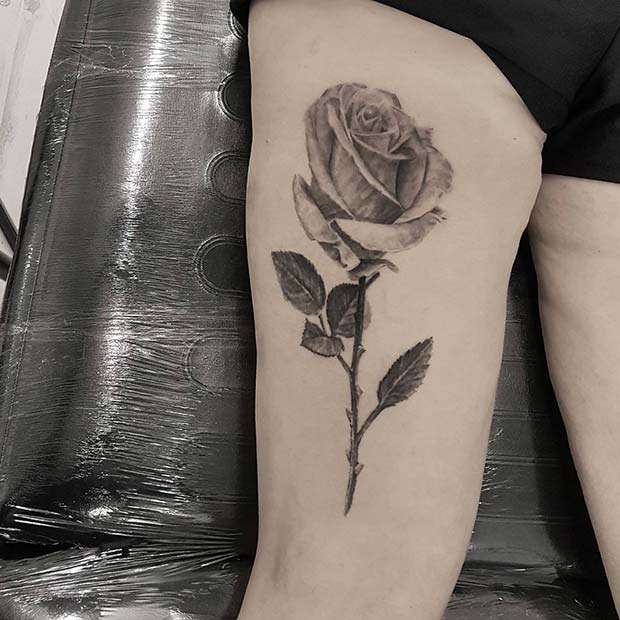 Watercolor Back of Thigh Tattoo
Next, we have a watercolor tattoo idea. The watercolor technique looks stunning in tattoos because it makes the design look like it was actually painted onto the skin. The colors and designs are beautiful. You can take inspiration from this and use the technique for any design you like.