Lotus flowers have become very popular tattoo designs. Not only are lotus flowers beautiful, but they also have a deeper meaning. A lotus flower is a symbol of rebirth and how we can get through hard times. We love lotus flower tattoos and think you will too. So, we have found 10 amazing lotus flower tattoo ideas. There is something for everyone, from black ink designs to vibrant pieces of art. Take a look and find your favourite.
Lotus Flower Back Tattoo
First up we have this beautiful lotus flower back tattoo. The lotus has been created with black ink and features patterns, dots and shading. This is a stunning tattoo! You can have a similar design created for your back or choose a smaller version for another part of the body.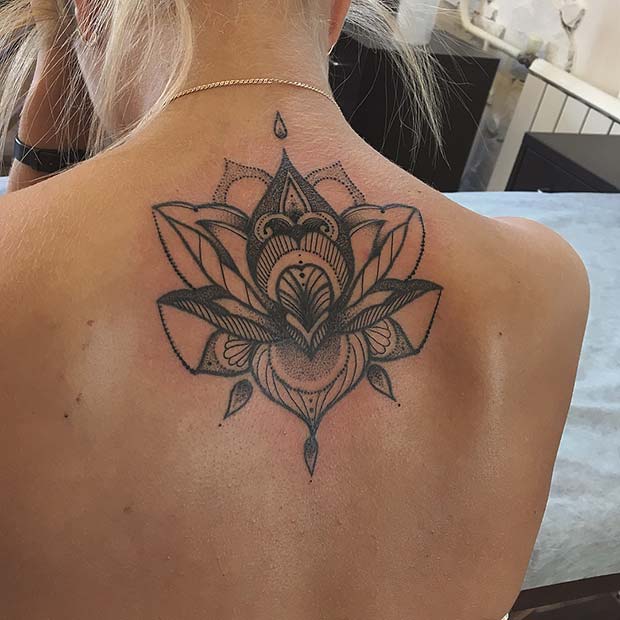 Lotus Flower Finger Tattoo
Our next idea is a pretty lotus finger tattoo. The lotus itself is simple and was created with black ink. You could have a similar lotus recreated or choose more detailing. Maybe you could even choose a different color. The lotus could be tattooed onto any finger. Finger tattoos are so stylish.
Hamsa Hand and Lotus
Next, we have a tattoo idea that combines two spiritual designs. The tattoo features a Hamsa hand and a lotus flower. Hamsa hands are a symbol of protection. The hand is also believed to bring good luck. When combined with the lotus, you have a beautiful tattoo that has a lot of meaning.
Hand Poked Lotus Flower Tattoo
Hand poked tattoos have become increasingly popular. This technique takes tattooing back in time and instead of your design being created with a machine, the artist will hand poke the design. Here is a beautiful example of a hand poked tattoo. The technique captures the elegance of the lotus.
Pink Patterned Lotus
Our next idea is a beautiful lotus design that features patterns and colors. Each petal has been decorated with a different design and the pink has been shaded in different places. This is a stylish tattoo that will look awesome on anyone. You could use this image as inspiration and have different patterns created with a different color.
Lotus Flower Sternum Tattoo
The sternum has become one of the most popular places to be tattooed. Here is a beautiful example of a lotus sternum tattoo. The lotus has been created with black ink and there is also a jewelry style design. A tattoo like this is perfect for someone who wants a statement piece.
Bold Lotus Tattoo Design
If you are looking for a bold design, then this next tattoo could be perfect. This lotus has been colored with bright yellow, purple, pink and more. It is a stunning piece and could be recreated in any size to fit any place on the body. You could also have a design that uses your favourite colors.
Simple Lotus Flower Tattoo
Looking for a subtler tattoo? Then this next idea could be for you. The small lotus design has been created in black ink and has been placed on the ankle. This is a delicate and pretty tattoo that can be shown off or hidden whenever you like. A design like this would be perfect as a first tattoo.
Lotus Flower Shoulder Tattoo
Lotus designs look amazing when tattooed on the shoulder. This black ink lotus is stunning. The flower has been decorated with a beautiful pattern. You could use this as inspiration and have your own shoulder piece created. Maybe use different patterns or even add some color.
Lotus Flower Mandala Tattoo
Our next lotus tattoo features the watercolor technique. This is a very creative technique that makes tattoos look like works of art. Here is a beautiful example of how to add watercolor to a black ink design. You can have splashes of any color added to the design. You could have a tattoo created with your favourite shades.