If you want to catch attention then go for a collarbone tattoo. This is the perfect way to highlight your clavicle. Rihanna has a very beautiful tattoo on her collarbone. It says "never a failure, always a lesson" in reverse. She did this in such a way that she can read it in the mirror.
However, even if you are not a celebrity, you can still flaunt a collarbone tattoo. You can search the web and you will discover numerous awesome tattoo designs inked on both men and women all over the world. Yet, the quickest way is to simply scroll down since we have gathered some of the best collarbone tattoos below.
80 Best Collarbone Tattoo Ideas
Rihanna Collarbone Tattoo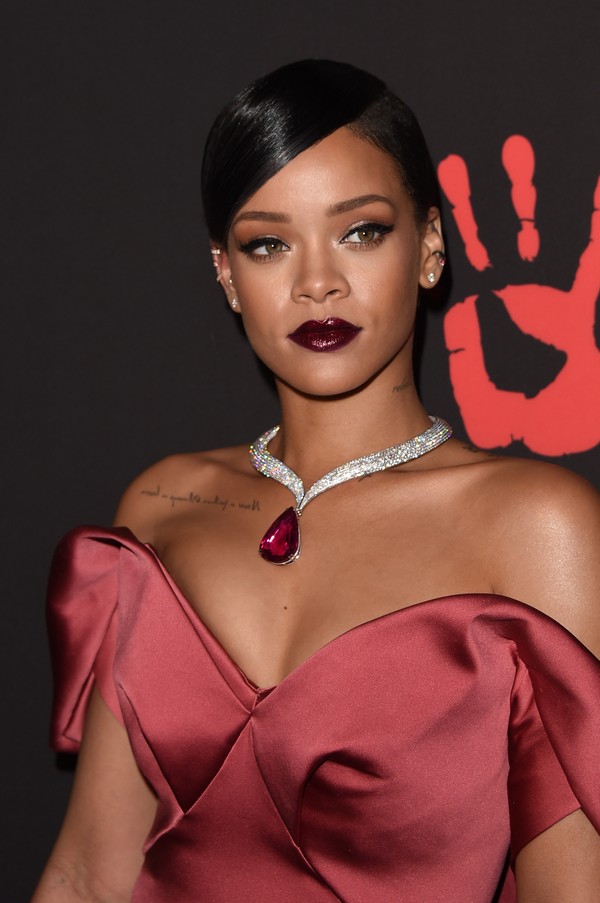 Rihanna's beautiful collarbone tattoo is written backward. It is a tattoo quote that says "Never a Failure, Always a Lesson". She can easily read it when she is in front of the mirror.
Men's Collar Bone Tattoos
David Beckham has a lot of tattoos on his body. On his collarbone, he inked the name of his daughter, Harper.
Unique Collar Bone Tattoos
Zayn Malik has two collarbone tattoos. On his right side, he inked the word "Friday." On the left side is an Arabic tattoo quote which means "Be True to Who You Are".
Tattoo For Collarbone
Harry Styles has about 30 different tattoos on his body. On his left collarbone, he tattooed it with 17 BLACK, this is James Bond's lucky gambling number.
Justin Bieber Collarbone Tattoo
Justin Bieber has a total of 56 tattoos on his body. According to the Canadian singer, "It seems like I have a lot of stuff". He has two collarbone tattoos. The roman numeral tattoo on his left collarbone represents the year his mom was born. How sweet! Pattie Mallette, Justin's mom, shared her sentiments by saying, "I wish he didn't have tattoos but I do like them. I'm torn. Weird, right?" On the other hand, the crown tattoo on his right collarbone is believed to be his tribute to Michael Jackson, the king of pop.
Small Collarbone Tattoo
Chris Evans has a tattoo on his collarbone. Do you know what it says? It is actually a famous quote from Eckhart Tolle, "When you lose touch with inner stillness, you lose touch with yourself. When you lose touch with yourself, you lose yourself in the world."
Best Collarbone Tattoo
Shailene Woodley has a Divergent tattoo near her collarbone. These bird tattoos represent Tris's family members.
Bird Collarbone Tattoo
Using the swallow image as a tattoo is not actually new. This classic bird design looks fluttering on the collarbone.
Collar Bone Tattoo For Girl
This tattoo represents the autumn leaves blown by the wind. The tattoo artist did not fill each leaf with a solid color, instead he shades them creatively.
Small Collarbone Tattoo Ideas
This is a small yet very meaningful tattoo. Don't hide your feelings. Show it to the world!
Best Collar Bone Tattoo Quotes
The collarbone is the perfect spot for this awesome tattoo. At the same time, it blends well into the existing shoulder tattoo.
Tree of Life Collar Bone Tattoos
A tree tattoo represents growth. This tree is a symbol of life.
Collar Bone Tattoo Designs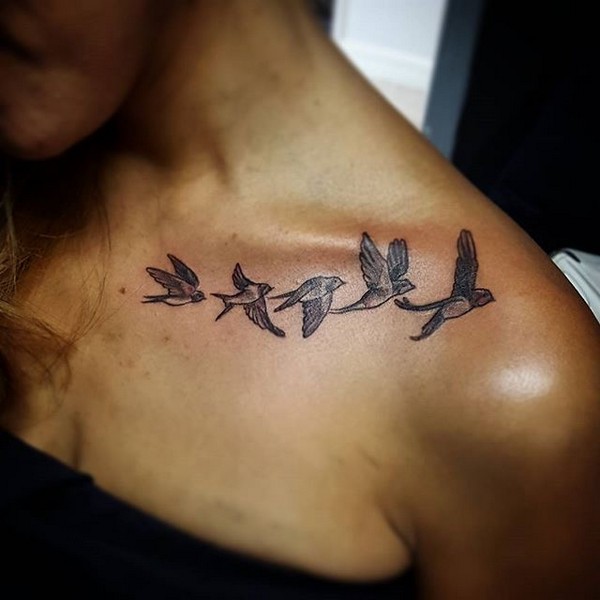 When it comes to bird tattoos, there are a lot of options. You could use an eagle, a dove, a sparrow, a raven, and others. In this tattoo, the artist draws five similar birds flying in the same direction.
Collar Bone Flower Tattoos
A beautiful and colorful flower tattoo placed on the collarbone.
Collarbone Quote Tattoo
"Powerful beyond measure" is a great line from Marianne Williamson. It's also a popular tattoo! This tattoo has a bold placement and an awesome font.
Collar Bone Butterfly Tattoos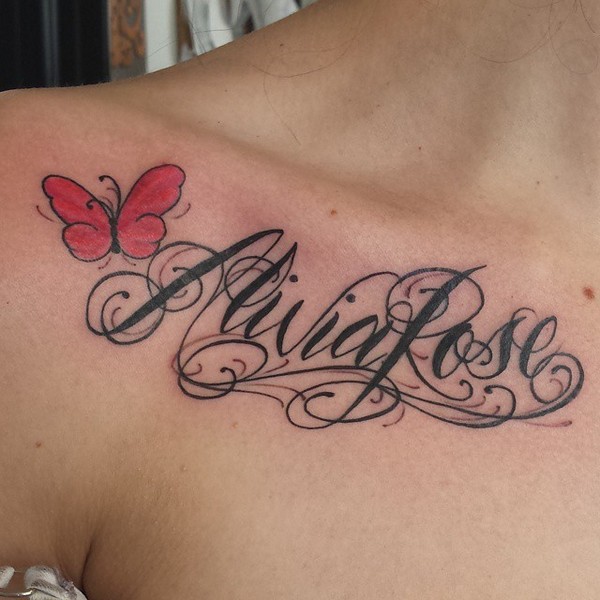 With collar bone tattoos, you'll have a chance to express yourself.
Small Collar Bone Tattoo For Girl
This is the French word for happiness and good humor.
Girl Collarbone Tattoo
The collarbone is the best tattoo placement for those who want to convey a message.
Collarbone And Shoulder Tattoos
With script tattoos, you can express your beliefs.
Collarbone Tattoo Small
This tattoo has a special meaning to the bearer.
Whimsical Small Collar Bone Tattoos
A small tattoo design inked on the collarbone can really grab a great deal of attention. This is a beautiful colored dragonfly tattoo. It appears that this design is actually inked on the bone area.
Small Bike Tattoo Collar Bone
Most women feel sexy with tiny tattoo designs.
Collar Bone Tattoo Guys
Wrap around collarbone tattoos is an excellent option for those who wouldn't mind the pain involved in getting bigger tattoos.
Butterfly Collarbone Tattoos
Script tattoos are the top choice for collarbone tattoos.
Below Collar Bone Tattoo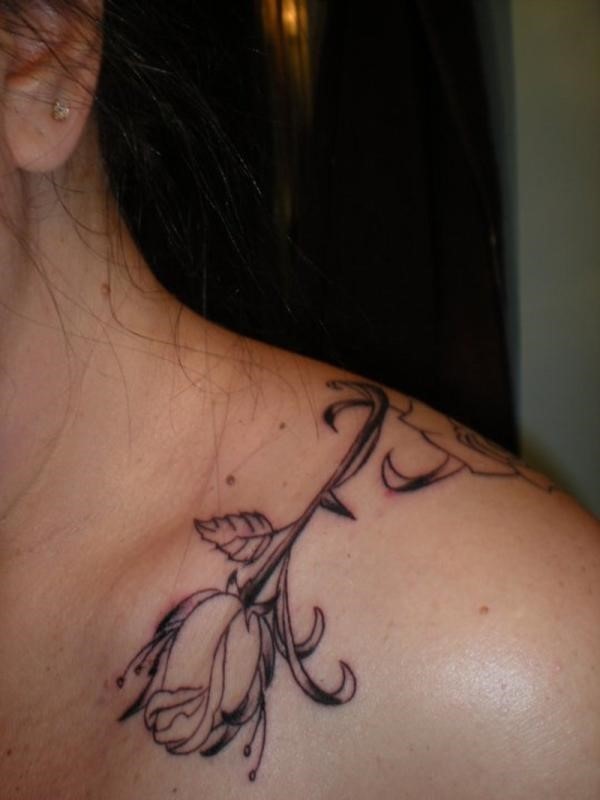 Collarbone tattoos can highlight one of the sexiest parts of your body.
Dragonfly Tattoo
Collar bone tattoos can be placed on one side or both.
Collarbone Tattoo Men
This tattoo covers a larger portion around the collarbone.
Collar Bone Tattoo For Females
Small tattoo designs can include symbols such as hearts, musical notes, feathers, and stars.
3d Nails Tattoo Collarbone
The clavicle can also be adorned with 3D tattoos since they look perfect and charming.
Collar Bone Stars Tattoo
This is an amazing example of a colored tattoo. It makes people wonder whether the stars are extended at the back. With collar bone tattoos, you can create a mystery!
Collarbone Tattoo Little Quotes Ideas
Sometimes choosing a tattoo design can be overwhelming. This particular tattoo design is a reminder for us that it doesn't have to be perfect. Clavicle tattoos are very versatile!
Sun Tattoo
Sun tattoo designs are extremely hot.
Script Letters on Collar Bone
Script tattoos can be a name or initials of a loved one or it can be a favorite quotation which reflects your personality.
Rose Collarbone Tattoo
Floral collarbone tattoos are mostly chosen by women since they are more feminine in nature.
Compass Tattoo With Phrase
Back then, compass tattoos are only worn by Navy personnel, but nowadays, this design can be seen on most tattoo lovers.
Collar Bone Tattoos With Meaning
There are endless designs and ideas for collarbone tattoos.
Collarbone Tattoo Quote
Beauty is imperfection. Do you agree?
Collarbone Tattoo Flower
Floral designs are a fabulous option for collarbone tattoos since they represent purity, beauty, and love.
Cute Clavicle Tattoos for Women
Impressive collarbone tattoos can make you look unique and distinct from others.
Under Collar Bone Tattoos
You can have a single star or a group of star tattoos on your collarbone.
Collarbone Tattoo Quote Ideas
"Heart means everything," is part of the lyrics of the song "Colder Than My Heart If You Can Imagine."
Bird Tattoos
Birds are naturally faithful and devoted.
Wonderful Arabic Tattoo On Collarbone
The Arabic script is a great tattoo design since it looks really elegant and creative.
Cool Collar Bone Tattoo Ideas
Getting a collar bone tattoo is not an easy decision. However, this is an excellent way of showing off your personality.
Good Quotes For Collar Bone Tattoos
"She flies by her own wings," is the motto of U.S. state of Oregon.
Norcal Star Tattoo Designs
Star tattoos for men are becoming more popular these days.
Heart Collarbone Tattoo
You can put a quote, name, or a variety of symbols on your collarbone.
3D Tattoo Design
A fantastic 3D tattoo design can only be done by a seriously talented tattoo artist.
Simple Collarbone Tattoo
Exquisite collar bone design with delicate and dainty wording.
Arrow Tattoo Design For Collarbone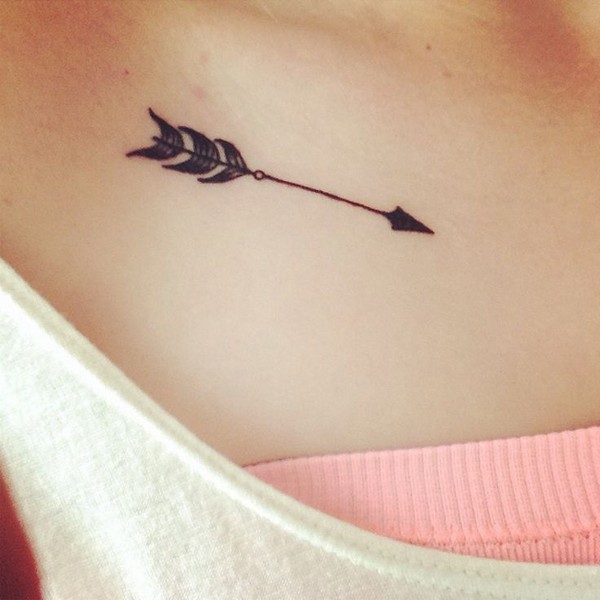 First timers usually prefer arrow tattoos because of its simplicity.
Small Tattoos
Both men and women boldly wear sayings that are inspirational or meaningful to them.
Flower Collar Bone Tattoos
Every tattoo is a unique work of art of the tattoo artist.
Wanderlust Tattoo
If you have a strong desire to travel, then this is the right tattoo for you.
Collarbone Name Tattoos
Collarbone tattoos can include dates and names in memorial of your loved one.
Girls Collar Bone Tattoos
Getting a collarbone tattoo takes a lot of confidence and boldness.
Mens Collar Bone Tattoo Ideas
Collarbone tattoos are an essential part of fashion.
Henna Tattoo Collarbone
If you love drawing attention to your collarbones, then this is a good place for your first tattoo.
Tiny Collar Bone Tattoo
Clavicle tattoos can range from a single word to extremely detailed sayings.
Cherry Blossom Tattoo
Cherry blossom flowers only bloom in spring. In Japan, they are also known as "Sakura".
Collarbone Writing Tattoos
"Take these broken wings and learn to fly" is part of the song "Broken Wings."
Collarbone Cover Up Tattoos
These brilliant red roses are used as a cover-up tattoo.
Collarbone Tattoos Quotes
Aime comme tu l'entends,' is a French phrase which means 'Love as thou Wilt', taken from Jacqueline Carey's Kushieline Series.
Cute Collar Bone Tattoo Ideas
Floral designs are a favorite in tattoo art, probably because of its extensive variety.
Clavicle Tattoo For Women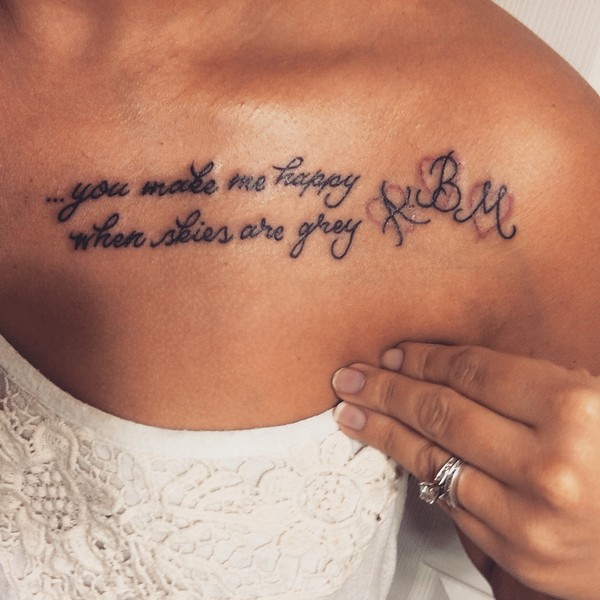 "You make me happy when skies are grey", is part of the song "You Are My Sunshine."
Awesome Bird Tattoo Design For Collarbone
This cute collar bone tattoo features a flying bird and three tiny birds in a branch of a cherry blossom tree. It is done with fine lines and softer colors.
Collar Bone Tattoos Ideas
The most popular collarbone tattoos are word or sayings written in various types of fonts.
Collar Bone Tattoos Flowers
Flower tattoos convey femininity, making them a popular choice among women.
Female Collar Bone Tattoo
Hakuna Matata means "no worries". Everything happens for a reason and they are beyond your control.
Infinity Tattoo
Infinity tattoo designs look very simple yet they are very meaningful.
Feather Collarbone Tattoo
"All good things are wild and free." These words are found in Henry David Thoreau's lecture "Walking".
Beautiful Collarbone Cover Up Tattoo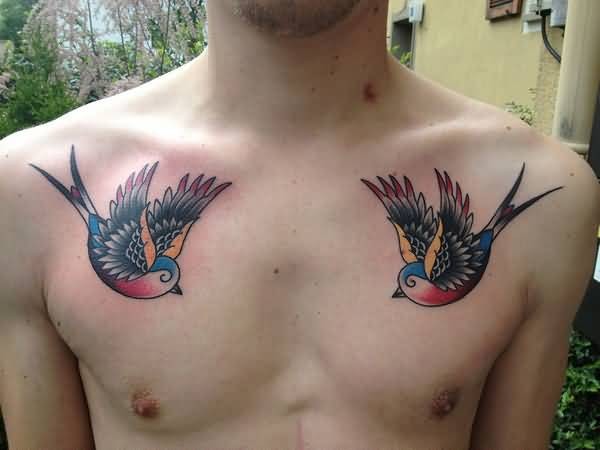 Collarbone tattoos offer an extensive variety of designs. They can vary from very tiny designs to big ones.
Best Collarbone Tattoo Designs
Time is everything so watch who you spend it with.
Tribal Sun Tattoo
The sun is the ultimate source of life. It has numerous meanings including strength, growth, endurance, and many more.
Awesome Collarbone Tattoo
The collarbone is the perfect spot for quotes tattoo.
Butterfly Collar Bone Tattoos
If you want to make a statement, then you should get a collarbone tattoo.
Tiny Collar Bone Tattoos
Tiny tattoos are placed strategically on the collarbone.
Collar Bone Tattoos For Men
These collar bone tattoos are perfect for guys who are seeking attention.
Collar Bone Tattoos For Guys
"Alis volat propriis" means "She flies with her own wings."
Cross Tattoos
Сross tattoos are one of the most common designs used by tattoo lovers.
Male Collarbone Tattoo Designs
The collarbone is usually always visible, hence you must opt for a design which means a lot to you.
Collarbone Tattoo Price: How Much Is It?
Generally, tattoo shops charge per hour. Very talented tattoo artists may charge you between $100 and $250 per hour. Take note that the standard is $150 per hour. For instance, if the whole design takes 15 hours to finish and the artist charges you with $150 per hour, then the total cost would be $1500. Obviously, this amount does not include the tip.
However, some tattoo shops require you to pay a minimum amount of approximately $100 for each tattoo. This means that even if you only want a small, simple design that can be finished in less than an hour, you are obliged to pay the minimum amount.
It's best to talk to the tattoo artist first and get a quotation from him. Sometimes the charge will also depend on the size of your tattoo. For instance, if your collarbone tattoo design is 5″ by 5″ and the artist will charge $10 per square inch, then you'll have to pay $250.
If you want a text tattoo, then you might think that you will be charged for each letter. However, there is no standard price for each tattooed letter. This is because it will depend on the font size, font type, and location of the tattoo. Most often, tattoo artists will charge you per hour. Therefore, you must ask the artist how long will it take. Usually, a small tattoo design can be finished in less than an hour. A medium-sized tattoo design will probably take less than two hours to finish.
Collarbone Tattoo Pain: How Bad Does It Hurt?
Getting a collarbone tattoo can be a painful process, particularly in some sensitive parts of your body. These are the areas wherein the skin is thinner and more sensitive. Some say that a tattoo on your collarbone is more painful since it's on your bone and any part of your body where there is bone is surely painful. That is why you should concentrate more so you can finish the session. People who claim that collarbone tattoos do not hurt are probably not telling the truth. Actually, the intensity of the pain varies from one person to another. Some people can tolerate the pain while others can't. It will also depend on the area where the design is drawn. Perhaps the best way to minimize the pain is to opt for something that can inspire and motivate you.
Conclusion
A collarbone tattoo can be seen both in men and women. Some people say that getting a collarbone tattoo is very painful. However, considering that there are a lot of people getting this tattoo, it is safe to say that the pain is not a hindrance. The designs can range from full chest tattoos to dainty quote tattoos. Most people opt for a collarbone tattoo to make a style statement. While a few people get them to express their beliefs. There are also some people who use this area to show off their artistic side. Regardless what your goal is, it is quite obvious that collar bone tattoos are not just a trend yet they are here to stay.
One of the most popular designs for collarbone tattoos is a quote or word tattoo. There are a number of fonts to choose from. Most often, tattoo lovers choose mottos or phrases that can motivate them in their daily life. This type of tattoos can be made of a single word only or a group of words.
Collar bone tattoos give you the chance to expose your personality. Additionally, you can make it as visible as you want it to be. Want to show off your collar bone tattoo? If so then, simply wear a low-collar shirt. Covering it up is very easy. Just wear a high-collar shirt. Since the collarbone is a very noticeable area, then it can become the center of attraction and can quickly grab some attention wherever you go. If you want numerous tattoos then your collarbone can be your centerpiece. You can also extend your design to your back. However, coming up with a good idea can be very crucial. When it comes to collarbone tattoos, choose designs which have deeper meanings.  If you are not yet ready to have a permanent ink on your body, then you can wear temporary collarbone tattoos.