100+ Leg Tattoo Ideas For Men & Women
Whether you decide to have leg tattoos, thigh tattoos, arm tattoos back tattoos, or chest tattoos, the primary goal of having the right placement is to make it eye-catching.
Nowadays, fashion is not just about what you wear as well as how you carry yourself. In fact, it has gone way beyond and most men and women are now choosing the most artistic and innovative types of fashion such as tattoos. Whether you decide to have leg tattoos, thigh tattoos, arm tattoos back tattoos, or chest tattoos, the primary goal of having the right placement is to make it eye-catching. Likewise, first-timers should know that getting a tattoo can be a painful process since it involves inserting a needle into your skin. With the use of a color pigment, the color of your skin will change. Keep in mind that once it is done, it will remain with you forever, obviously, tattoos are permanent in nature. Hence, when you decide to have a tattoo inked on your body, you should do a lot of deep thinking and cautious selection of design.
Why Leg Tattoos Are So Appealing
Leg tattoos are among the most attractive assortment of body tattoos since they can make your legs look sexier and more captivating. That is why, they are particularly loved by most women, although they are fairly popular among guys too. A sleeve tattoo is not only for the arm tattoos since it can also be used for leg tattoos. The tattoo is extended from the thigh down to the foot for a sleeve like effect. The best aspect about leg tattoos is that tattoo artists have sufficient space for creating bold and awesome designs.
Also, leg tattoos look outstanding since they have the advantage of movement and arch, which are not found in other body parts. This is why it is the best option for people who are looking for something daring and eye-catching. Another advantage of leg tattoos is that they can be easily hidden or exposed. Men and women can choose to show off their legs in suitable outfits whenever they desire to expose this gorgeous body art to the world. Similarly, they can quickly cover them up in case they have professional commitments which require them to do so.
However, if you are a tattoo enthusiast then you should be aware that legs offer more space and positioning for remarkable tattoos. Nevertheless, you might get bewildered on whether to get a tattoo on the upper leg or lower leg or perhaps a leg sleeve tattoo design. No need to worry since we will give you 100 best leg tattoos ideas for men and women.
The most common designs for leg tattoos are Japanese art, tribal design, Indian feathers, and others. Some tattoos are more feminine in nature while others are more masculine. The most common types of tattoos are those which signify a solid symbol like crosses or Mayan symbols. Are you searching for awesome leg tattoo designs? If so, then you are at the right place!
100+ Best Leg Tattoos
Full Leg Tattoos
Mandala Leg Tattoos
Leg tattoos are cherished by women since they look cool and sexy.
Colorful Full Legs Tattoo
Look for a tattoo idea that reflects your personality.
Full Leg Tattoo Designs
Most people prefer a bigger tattoo considering the larger area of the leg.
3D Full Leg Tattoo
Originally Posted on Pinterest
The 3D effect can provide a whole new look to the tattoo design.
Leg Tattoos For Girls
Originally Posted on Pinterest
This monumental leg masterpiece is truly amazing!
3D Full Leg Tattoos For Women
3D tattoo design will greatly depend on the skill of the tattoo artist.
American Indian Wolf Full Leg Tattoos
A wolf is considered as a strong, wise, and speedy beast.
Female Leg Tattoos
Leg tattoos are very popular in the female world.
Black Leg Sleeve Tattoo
Tattoos on legs are the best option for men and women.
Leg Tattoos For Females
The legs have a good space for an extensive tattoo design.
Black And White Skeletons Full Leg Tattoos
Getting a tattoo on legs can look pretty cool and stylish too!
Puzzle Themed 3d Full Leg Tattoo Ideas
While customary tattoo styles will always remain a classic, modern 3D designs are now taking the world by storm.
Black And Grey Fish Tattoo
Leg tattoos come in different shapes, forms, and designs.
Tribal Leg Tattoos
Getting an entire full leg tattoo is a prevalent trend.
Women's Leg Tattoos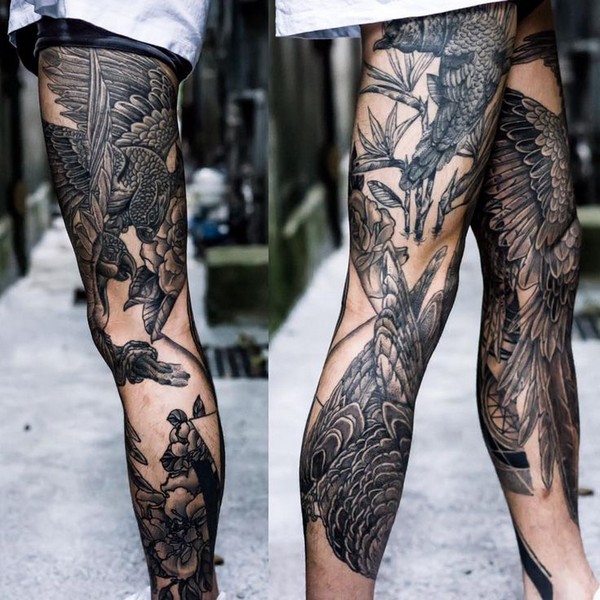 There are several tattoo designs specifically created for the legs that can really look hot especially when flaunted in short outfits.
Upper Leg Tattoos
Leg Tattoos for Women
Originally Posted on Pinterest
Leg tattoos are mostly worn by women since they like to wear shorts or any short clothes.
Phoenix Leg Tattoos
Leg tattoos provide the opportunity for women to embellish such favorable place with expanded photos of various designs.
Flower Leg Tattoos
Originally Posted on Pinterest
Floral designs like roses and other varieties of flowers can look amazing on waxed legs.
Ladies Leg Tattoos
Originally Posted on Pinterest
The legs are a great place for tattoos since it has a lot of space for developing your imagination and creating unique and stylish designs with powerful meaning.
Leg Tattoos For Women
Leg tattoos are the most sensible option since it can be easily hidden and displayed.
Leg Flower Tattoos
Originally Posted on Pinterest
Leg tattoos are not just a mere embellishment of the body, they're an entire philosophy, a unique lifestyle.
Unique Leg Tattoos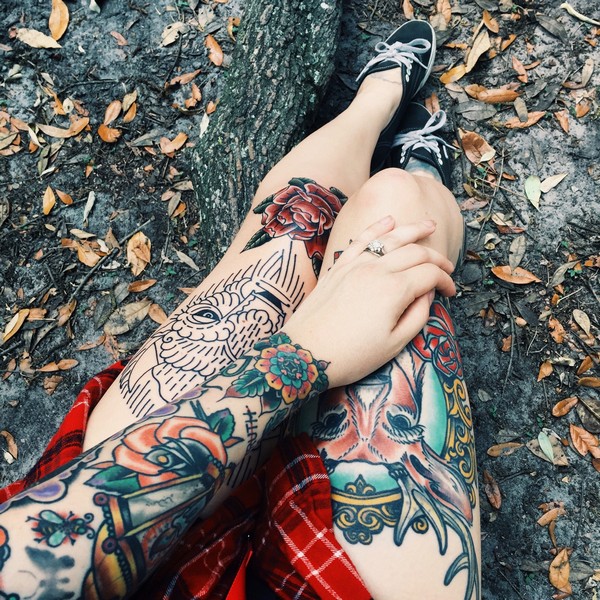 Girls usually like different images of flowers, animals, and plants.
Anchor Leg Tattoos
Be the one to guide me, but never hold me down.
Watercolor Leg Tattoos
Leg tattoos can hide some of your imperfections, at the same time highlights your strong features.
Leg Tattoos For Males
Leg tattoos are quite popular right now, thanks to the influence of celebrities.
Leg Tattoo Quotes
I will fear no evil for You are with me.
Tree of Life Leg Tattoos
Most women love adding body art to their sexy legs to enhance their appeal, giving them a better reason for flaunting them in public.
3D Leg Tattoo Art
The most significant aspect of 3d tattoos is selecting the right design, as well as the right placement.
Octopus Leg Tattoos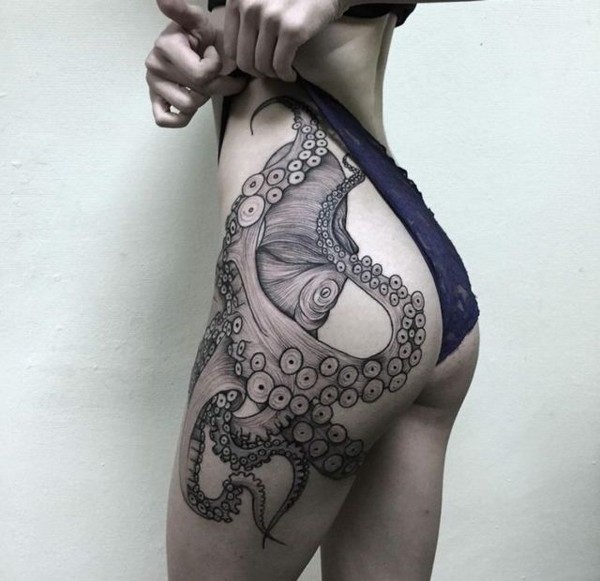 If you want to wear that hot look, go for leg tattoos.
Sexy Tattoo
Sexy tattoos are appealing and pleasing to the eyes of the beholder.
Leg Sleeve Tattoos
Koi Leg Tattoos
Leg tattoos make a personal statement.
Cool Leg Tattoos for Girls
Leg tattoos for women are practical and comfortable.
Full Leg Sleeve Tattoo
Japanese Tattoo Designs are one of the oldest traditional styles of tattooing.
Leg Tattoos for Females Designs
Originally Posted on Pinterest
Leg tattoos will inspire you to keep fit and maintain the elegance of your body.
Japanese Leg Sleeve Tattoo
Japanese tattoos are a great choice for cover-ups since it can be personalized for every unique situation.
Japanese Tattoos For Men
Japanese tattoo designs are one of the most popular styles of modern tattooing.
Impressive Leg Tattoos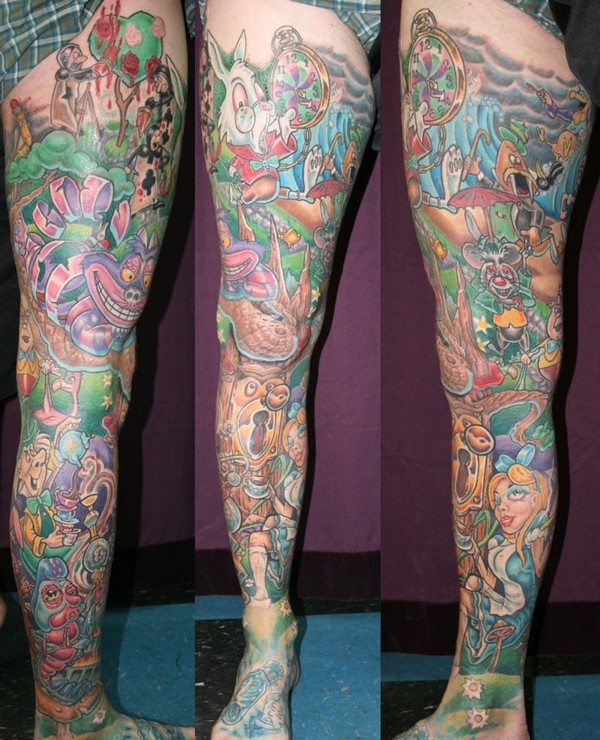 A number of new tattoo designs have emerged, giving you more options for your leg tattoos.
Colorful Tattoos For Men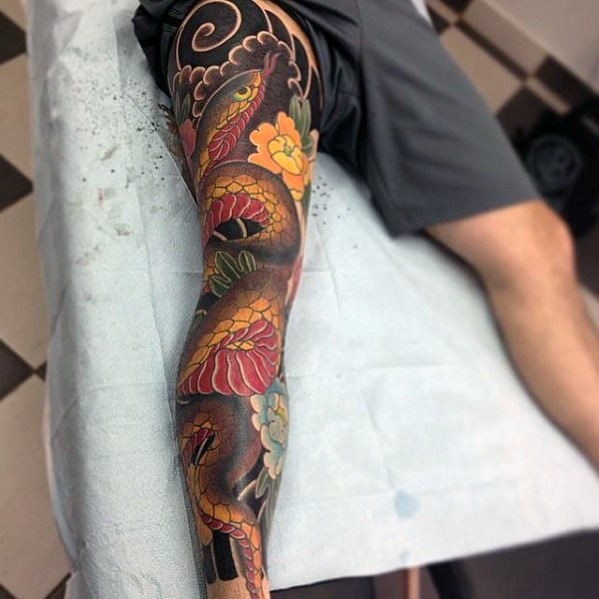 Leg tattoos are an exceptional way of passing a certain message.
Undersea Wonderland
The colors blend so well together in this leg sleeve tattoo.
Vibrant Leg Tattoo
Leg tattoos have a lot of hidden meanings.
Japanese Leg Sleeve
Originally Posted on Pinterest
Japanese tattoo designs are quite illustrative and deeply symbolical as well.
Tattoo Leg Sleeves For Men
Leg tattoos can easily be displayed by merely wearing a pair of shorts.
Lion Head Leg Tattoo
Originally Posted on Pinterest
The legs are a vast palette of your creative body art.
Awesome Leg Sleeve Tattoo
Tattoos are a combination of traditions and modernity, resulting in a unique form of body art.
Women's Leg Tattoos
Women's leg tattoos can easily be hidden by wearing pants or long skirts.
Leg Tattoos For Men
Japanese Leg Tattoos
Traditional Men's Japanese Tattoo On Legs
Japanese leg tattoos have become a unique manly tradition for most men.
Leg Tattoo Cover Up
Japanese body art is poignantly deep and is bound to stay in style infinitely!
Japanese Tattoo On Legs
Japan's approach to inking is incomparable.
Japanese Leg Tattoo Design
Samurai tattoos are very prevalent among the Japanese people, and lately, it became more trivial in other cultures.
Leg Tattoo Designs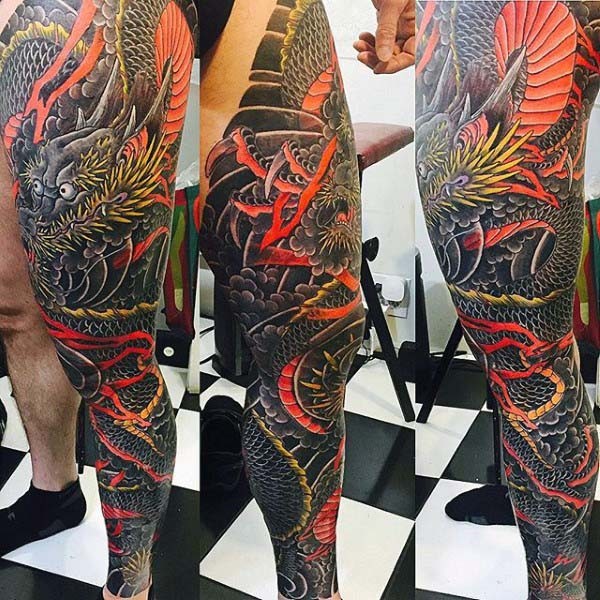 Japanese designs can be customized with your existing tattoo.
Japanese Hannya Leg Sleeve Tattoo
Every aspect of Japanese tattoo design has its specific meaning and objective.
Japanese Full Sleeve Tattoo
In order to understand its meaning, it is necessary to understand the history and tradition of Japanese culture.
Best Leg Tattoo Designs
In Japan, full-body tattoos were originally affiliated with the samurai.
Samurai Mask And Skull Warrior Tattoo For Men
Generally, Japanese tattoos were once widely acknowledged as emblems of social status.
Japanese Leg Sleeve Tattoo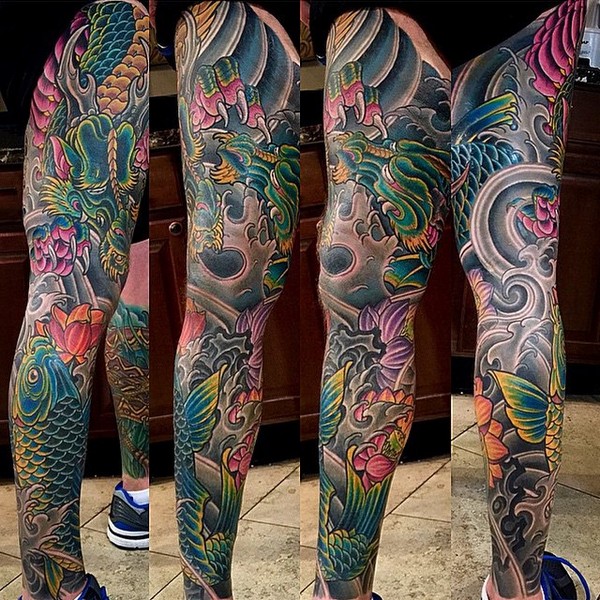 It is a fact that Japanese tattoo designs are truly appealing.
Japanese Peony Tattoo
Due to its intense oriental cultural implication, peony flowers are generally used in Japanese tattoo designs.
Tribal Leg Tattoos
Sun Hawaiian Leg Tattoos With Tribal Design
Tribal tattoos look more stylish when they are placed on the legs.
Men's Hawaiian Tribal Leg Tattoos
Modern tribal designs originate from the classical Polynesian art.
Tribal Leg Ink
Tribal tattoo designs are customary among men and women.
Leg Polynesian Tattoo
Tribal tattoo sleeve designs convey fierceness.
Leg Tattoo For Men
Most of the time, tribal tattoo designs are in black.
Common Tribal Tattoo Design
Tribal designs are becoming popular nowadays due to the influence of famous celebrities and athletes.
Unique Leg Tattoos For Men
Typically, standard tribal tattoos are composed of abstract objects such as flames, spikes, and spears.
Polynesian Leg Tattoos For Men
In the early years, tribal tattoos were often used as identity markers.
Black And Grey Tribal Tattoo
Most tribal leg tattoos for men are intensely symbolic and depict abstract ideas.
Polynesian Leg Tattoo
Tribal leg tattoo designs provide more freedom to the tattoo artists since they can create various shapes within their masterpiece.
Intricate Tattoo Designs
Most tribal tattoos have a personal significance to the wearer.
Leg Tattoos For Women & Girls
Flower Leg Tattoos
Peony Flower Leg Tattoos
Flower tattoos are always a favorite option for women since they are the symbol of feminine beauty.
Skull and Flowers Leg Tattoo
Women are notable for making the grim symbolism of a skull more splendid by adding flowers to it.
Rose Leg Tattoos
Adding some beautiful floral designs to your tattoo can make it look more awesome.
Leg Tattoo Of Lily Flower
Flowers are considered as one of the most exquisite things in the whole universe.
Rose Tattoo Designs
The outline can make the tattoo look more defined.
Sexy Leg Tattoos
Regardless if it is done in black and gray, it still looks pretty.
Owl and Rose Leg Tattoo
Adding body art to your sexy legs can enhance its appeal.
Sexy Leg Tattoo Designs
Getting a leg tattoo can be a challenging decision since there are a plethora of options that are available.
Best Leg Tattoos For Women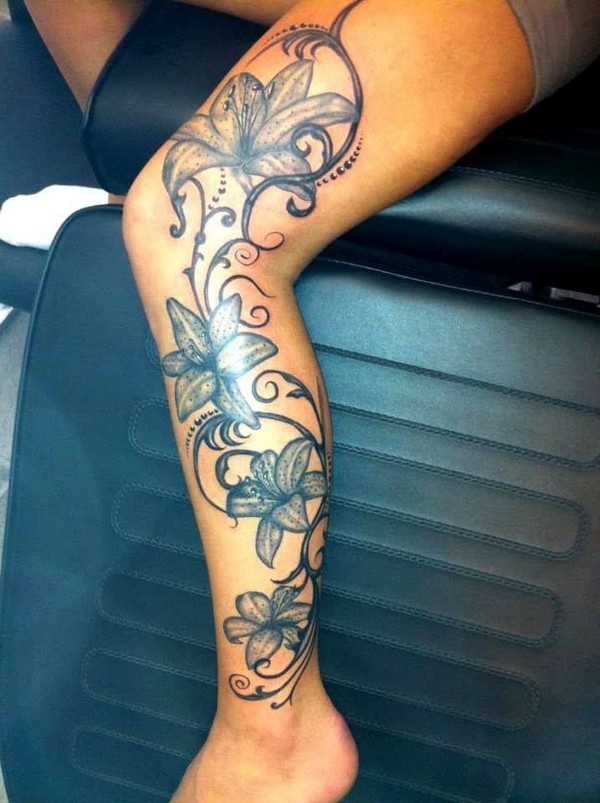 Most women choose flower tattoos since they are very symbolic.
Lower Leg Tattoo
Flower designs come various types, colors, and sizes.
Watercolor Leg Tattoo
Flowers have always been a common choice for women looking for tattoos.
Roses Leg Tattoos
Rose tattoos are simply stunning.
Rose and Skull Leg Tattoos
Aside from roses, you can also add other kinds of flowers or other types of beautiful art and patterns to your skull tattoo.
Big Rose Flowers Tattoo
Roses are most renowned for being one of the most beautiful flowers out there.
Best Thigh Tattoos
Roses are the most cherished flowers that a boyfriend or husband can give to his girlfriend or wife.
Best Leg Tattoos Ever
Roses are a symbol of love.
Skeleton and Roses Leg Tattoo
Rose leg tattoos are one of the most trendy options available out there.
Unique Rose Leg Tattoos
Most people choose rose tattoos since they are more flexible and can work well on various body parts.
Rose and Anchor Tattoos
These rose tattoo designs are a global option because of its natural beauty.
Leg Tattoos Women's
Originally Posted on Pinterest
While rose tattoos signify love and passion, butterflies are usually associated with rebirth and resurrection.
Watercolor Rose Leg Tattoos
Roses are so versatile, you can virtually incorporate it into any other design, and it can look awesome.
Simple Leg Tattoos
Rose tattoos can be of any shape or color.
Butterfly Leg Tattoos
Amazing Leg Butterfly Tattoo
Butterfly tattoos are more associated with ladies, however, they can also look sexy on men.
Attractive Leg Tattoo Designs
Insects, such as butterflies, are usually associated with the progression of transformation.
Cute Butterfly Tattoo Designs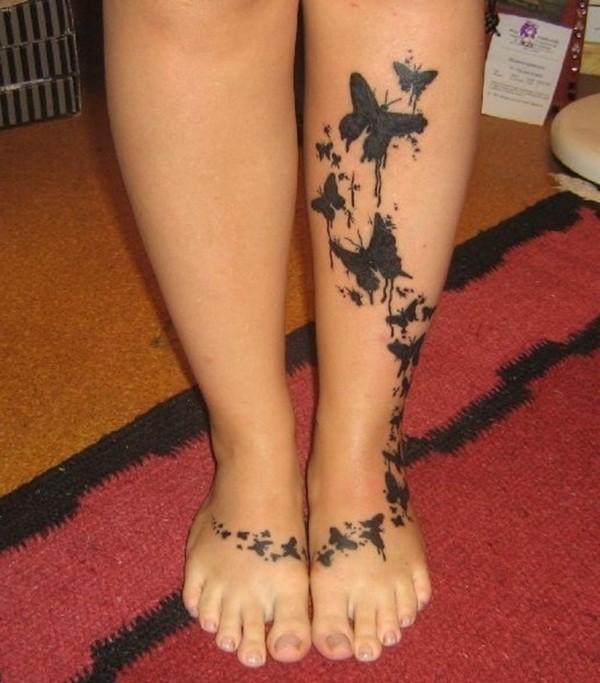 Butterfly leg tattoos are the essence of classic feminine tattoos.
Butterfly Tattoos Ideas
There are more than 160,000 different species of butterflies and they come in various colors, sizes, and shapes.
Butterfly Tattoos Ideas
Adding a few flowers here and there takes a few butterflies into the realm of the mural.
Gorgeous Butterfly Tattoos
Butterflies are among the top designs chosen by women.
Sexiest Leg Tattoos For Girls
In some cultures, they believe that butterflies symbolize the soul. When they see a butterfly, they believe that it is the soul of their departed loved one.
Sexy Leg Tattoo Designs
Butterfly tattoos are very common these days, however, a few artists still find creative and original ways of creating them.
Butterfly Tattoo On Thigh
Butterflies symbolize your loved one, however, it can also represent peace and beauty.
Butterfly Leg Tattoo
If you do choose to get a butterfly tattoo, then you may add some flowers to it.
Small Leg Tattoos
Butterflies are often used as the central theme in art and painting due to its beauty and delicate nature.
Do Leg Tattoos Hurt?
When it comes to tattoos, the most commonly asked question is how painful is it? If you are a first-timer then you should know the less and the most painful parts of your body to get tattoos. This can help you in making a well-informed decision. Keep in mind that body parts which have the most flesh are believed to be less painful compared with the bony parts with lesser skin. Consequently, leg tattoos are considered less painful compared to knee tattoos.
Conclusion
Leg tattoos look really cool. If you are planning to get one then you should make sure that it is the most suitable for you. Most often, tattoos are an impressive representation of a great story waiting to be told. If you ever met someone who is covered with tattoos, then you can ask them what's the story behind their tattoos. For instance, although Dan Osborne already has a lot of tattoos on his body, he revealed that the most sentimental one is his leg tattoo, which is a tribute to his two children. We hope that the list above has helped you in making an informed decision with regards to what type of leg tattoo would you want to get. Which one do you like the most?