Suspenders can be worn by any gender, men and women. This makes you look different in any occasions. You can combine your suspenders with other garments in any color as well. Show your personality by wearing the right outfit for any moments in your live. Here are some inspirations of wearing suspenders for everyday style;
[bs_smart_list_pack_start][/bs_smart_list_pack_start]
Good Hipster Style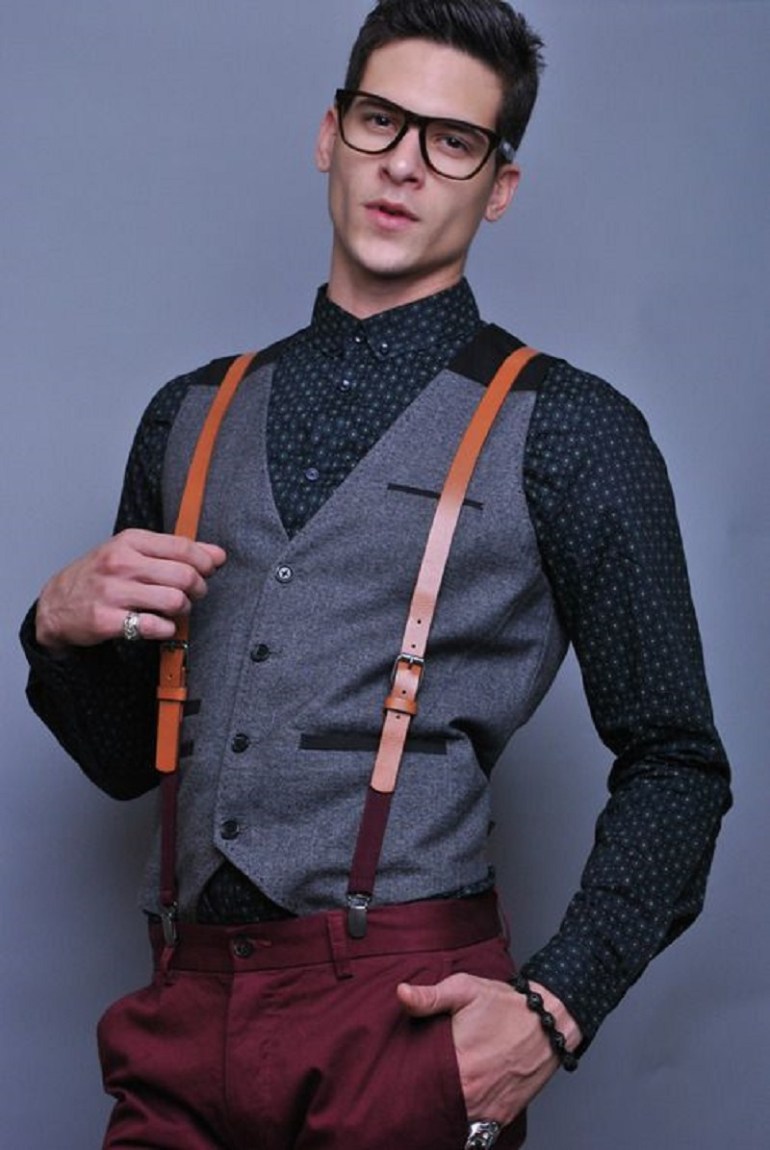 This style is good for formal or semi formal occasion. The skinny leather suspenders look good because of red pants. Try this outfit for going to your office today. Then, see how awesome you are.
Young Hipster Style
Do you want to get hipster look? The thin suspenders are great for your style to go to college. Combined with a plaid dress shirt in any colors you like. It will better if you choose pastel for semi formal performance.
Country Style

Here, this boy wears medium width suspenders for country style look. It works well paired with jeans and a dress shirt. Make your day become more cheerful wearing this cool outfit
Colorful Suspender Outfit

Rock your day by this outfit with blue pants along with a blue dress shirt. Make it more impressive by white collar and gray tie. Then, you will feel wonderful with thick blue suspenders to look smaller and thin suspenders to make you look bigger.
Fashionable Unique Look

Once more red pants will make you look charming combined with suspender. Here, blue shirt with tie tucked brings your appearance look more stylish. Enjoy your day by this fashionable unique look!
Simple Look Suspenders

If you are busy with your daily routine, you can try to wear thin dark suspenders with a denim button up dress shirt. Make it more fascinating by wearing skinny jeans paired with construction boots. Here you are, in a simple look but stylish.
Classy Vintage Look

Awesome look! Pay attention to the dark thin suspenders which go well with the color of the vest. You can avoid clashing colors by wearing white shirt. Don't forget to wear bow tie for looking classy.
Neat Suspender Outfit

Worrying for your dating this night? You have to try this style soon. Wearing suspenders will make you look classy. Combine with jacket and pants in a similar color. Make it perfect by a set of bowling shoes and a bow tie. Tell yourself that you are ready to go.
Sexy Look Outfit with Suspenders

Let yourself shows how masculine you are by wearing this outfit. Try to combine white dress shirt with dark dress pants along with a light tan set of thin suspenders. Look! How sexy you are by this outfit.
Artistic Outfit with Suspenders

You will look awesome by wearing green stripped suspenders outfit. With the hat at your head makes you look like an artist or musician. This outfit looks good for fun dating or business meeting.
[bs_smart_list_pack_end][/bs_smart_list_pack_end]