50+ Sexy and Sophisticated Eyeliner Ideas
There are many different eyeliner ideas that can really change the way your eyes look and that's something women everywhere celebrate.
If you are looking for a way for you to make your eyes pop, then you might want to consider a new eyeliner technique. There are many different eyeliner ideas that can really change the way your eyes look and that's something women everywhere celebrate.
The best possible way that you could define your eye is to use eyeliner. It's been around for many years and this is something that every woman probably has in their makeup bag. Your makeup collection needs to have eyeliner in it. It's part of the whole package. Eyeliner is something great for your look because it brings about a whole new dramatic look to your life. It's dramatic but also beautiful as well.
Also Read: 75+ Natural Makeup Ideas for Special Occasions
If you are in the market for a new eyeliner, just make sure that you purchase reliable products because it does matter, you get what you pay for. Eyeliners come in many different colors so it depends are the kind of look that you want. A small change in your eye can make a big difference and there are many different eyeliner techniques out there. If you are looking for a new gorgeous look then stay tuned to find some stunning styles that you will love for a long time.
Below are 50+ Sexy and Sophisticated Eyeliner Ideas:
Winged Eyeliner
This eyeliner look is one that is very popular right now. These styles are gorgeous against white eyeshadow.

Solid Black
This thick eyeliner looks incredible with these ultra bright colors.
Multiple Wings
There are just sometimes when one wing is just not enough. These double wings give you a dramatic look that will blow everyone's mind.
Simple Designs
A great simple black eyeliner that makes this green color really pop. There is liner above and underneath and when the eyes open it rocks your world.
Black and Gold
This gorgeous black wing is made more glamorous because of the gold that is lined with it. A stunning style that will make you feel like a Queen.
Magical Designs
If you are looking for a dramatic style then this is one that you are sure to love. It's thick and bold and has plenty of sparkles.
Add a Heart
A great eyeliner style that has a little heart inside of it. You won't find a more unique style than this one.
The Cat's Meow
A simple black eyeliner against the eyelash area. There is also a brown winged eyeliner on the corner that makes it pop. If you love drama then you are sure to love the cat eye shadow.
Dark and Deep
This bold black eyeliner really stands out because it's so dark and perfectly drawn.
Step By Step
Here are five steps that will show you how to do a perfect winged eyeliner. You can't go wrong.
Opening Up the Eye
This is a perfect example of how you can completely change the look of your eye with just a little eyeliner. This is a gorgeous style.
Sparkle Eyeliner
You don't need black to have a truly amazing eyeliner. All you need is a bit of sparkle.
Mesmerizing Style
By lining the top and the bottom of the eye you really change the shape of the eye. This is a very dramatic style.
Pink and Bright
Thin lines of gold and black are truly remarkable against pink.
Bold Designs
This gorgeous style is one that is perfect for any event. There are so much drama and sexiness to this style and you are sure to love it.
Gold Designs
This gorgeous eye shadow combo looks amazing when there is black and gold eyeliner to trim it with.
Thin Eyes
This thin liner makes the eyes appear smaller.
Lining the Eye
Her eyelid is quite small so she can line the entire thing to create this look.
Arrow
A gorgeous black eyeliner that has just an arrow on the bottom.
Thick Lines
A great look that starts off thin and then gets very thick.
Romantic Styles
A dramatic look that has a long wing and a couple of hearts. You are sure to turn heads if you show up to an event with white hearts attached to your winged design. It's truly a creative style.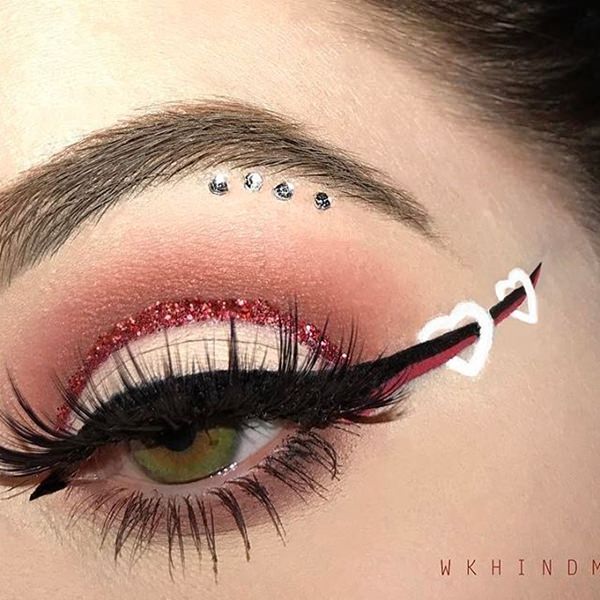 Stunning Blue
An electric blue color that pops right off the skin. The blue and white together really makes the eye pop creating a wonderful design.
Blue Designs
This blue design is breathtaking and we love the dark blue eyeliner.
24. Electric Purple
You have to be truly edgy if you want to pull of this dark and dangerous design. This is a very dark look and it can really come off wrong if it isn't created right.
Neon Styles
A great style that has a black line as well as a neon purple one. This sort of look is always going to be eye-catching. It's absolutely stunning.
Curly Lines
These elegant lines are truly stunning and one of a kind. There are three wings and they are all coming off in different directions. We could totally see this look at a costume party.
Gorgeous Wing
A step by step style that will leave you an awesome wing. If you have always wanted to try it then here is your chance.
White Lines
A white line against the black is one that's truly amazing. White and black together is a great way to make your eyes pop. We love the colors together because you can't stop staring at it. Wonderful and beautiful.
Dotted Lines
A great eyeliner that is made out of white dotted lines. Truly a different style that anyone would love.
Rusty Shades
A great eye shadow combination that has a great blue and rusty eyeliner.
Twisty Colors
This gorgeous design is truly dramatic and would be eye-catching at any event.
Gorgeous Dots
A blue line that is beautiful and the dots just make it amazing.
Pink Liner
If you are looking for an edgy look that is all about art then this is the one for you. This pink eyeliner is truly unique.
Deep Red
This unique eyeliner is in a deep red. It's a great style that you are sure to love.
Mysterious Designs
A great design that is unique if you want a different style.
Perfect Line
A great eyeliner that makes the eye shadow really pop.
Smoky Eye
A great eye that is truly smoky, it offers you a sexy style that anyone would love.
Green Sparkle
If you are looking for a rockstar style then you surely found it. We just love all these different colors of green sparkles.
Zebra Styles
If you want a unique style then you are going to love these zebra lines going along the eye.
Bold Eyeliner
This is the kind of eyeliner that makes your eyes pop.
Colorful Designs
This eyeliner design is very Egyptian and will surely bring you joy.
Rainbow Colors
This gorgeous eyeliner style is made up of a rainbow of colors. It's absolutely gorgeous.
Egyptian Styles
Not everyone can pull off such a dramatic look so try it out first before you go out.
Shocking Blue
There is no eyeliner on the top of the line. They have just lined a thick blue underneath.
Tying a Bow
If you are looking for something cute then you are sure to love this liner idea. The bow finishes off the winged tip.
Blue and Black
A stunning eyeliner idea that has an electric blue blended into the black.
Drama and Darkness
We're not sure that this is a style that can be worn anywhere but if you like drama and intrigue then give it a whirl.
Bright Pink
Different pinks together create this amazing eyeliner design. It's unique and beautiful.
Peacock Style
We can't say enough good things about this eye makeup design. There is a black liner but it's not what makes the look pop. The different shades, as well as the sparkles, is what makes this an amazing style to create.
Standard Style
If you want a basic style then you can't go wrong with a winged tip. The solid black line really brings out the eye.
Thin and Unique
This look is truly unique and the thin lines work to minimize the eye, not to make it pop.
Thinnest Line
A great way to have an elegant style is to draw the thinnest eyeliner line on the eye.