35+ Brilliant Chestnut Hair Color Ideas and Looks
Most of these chestnut hair color looks tend to be on the warmer side, making them great options for women with equally warm undertones in their skin.
Brown hair is far from boring, but with so many different shades to choose from, it can be tough to figure out which hue is right for you. If you're after a classic brunette look that has some hints of red without being full-on auburn, we've got a ton of chestnut brown hair color ideas for you.
Most of these chestnut hair color looks tend to be on the warmer side, making them great options for women with equally warm undertones in their skin. But our list also features some ashy chestnut looks and lighter shades suited to fairer complexions.
Keep scrolling to see 35+ of our favorite chestnut brown styles and read about which ones will look best on you.
Warm Chestnut Ribbons
Ribbons of warm golden highlights mix in with a chestnut brown base color to create a brunette style that looks like it radiates warmth. Whether you live in a place where fall signals changing leaves or just a slight drop in temperature, this yummy hair color will feel appropriate for the season.
Ashy Chestnut
This ashier version of a chestnut brown hair color is perfect for women with cooler complexions. It also works for anyone who's after an upgrade from their natural brunette shade that can pass as the hair color you were born with.
Bright Medium Chestnut
Pale complexions can look washed out against darker shades of brunette hair. This medium chestnut brown color is the perfect in-between shade for women with fair and medium skin tones. Bright highlights throughout the lengths help to create dimensionality while keeping the style simple and chic.
Chestnut Brown with Bold Golden Balayage
Chestnut brown makes a great base color for medium to dark skin tones. This deep, subtle chestnut has warm notes that balance nicely against a golden blonde balayage applied liberally throughout the hair's lengths.
Medium Chestnut Crop
Rich shades of brunette like chestnut brown lend themselves well to longer styles that leave lots of room for highlights. But a single tone of medium chestnut is also a sleek choice for your shorter pixie crop. Women with green or golden brown eyes will love how this shade looks in a side-swept fringe.
Chestnut Brown with Golden Flamboyage
The flamboyage technique is balayage's more natural and subtle cousin, making it perfect for creating multidimensional hair color that could be mistaken for a shade you were lucky enough to be born with. This chestnut brown style features dark golden highlights that use the flamboyage technique to create a luxuriously low-key look.
Chestnut Brown with All-Over Blonde Highlights
This reddish shade of chestnut brown gets lightened up with blonde highlights distributed evenly throughout the hair. This highlighting technique is great for accentuating braided hairstyles and updos, but tends to require more upkeep than ombre or balayage highlights.
Chestnut Brown with Golden Balayage
Mix dark chestnut brown hair color with golden balayage highlights to create a warm look that's perfect for cooler seasons. We love this style on anyone with warm undertones in their complexion, and it looks especially attractive on medium-dark skin tones and green eyes.
Medium Copper and Chestnut Brown
Chestnut brown usually features subtle red tones that add an extra pop of color against basic brunette shades. But if you're looking to up the red intensity, try mixing a chestnut brown hair color with lighter copper tones. The end result is a warm and bright color that looks especially good on fair complexions with warm undertones.
Dark Chestnut with Auburn Highlights
Punch up the reddish tones in your dark chestnut brown base color by mixing them with auburn highlights throughout hair's outermost layer. This highlighting style helps to make your hair look thicker, and also creates eye-catching patterns when you wear braided styles and updos.
Dark Chestnut with Caramel Highlights
If your locks are naturally a dark chestnut brown or you're looking to slightly warm up your hair, caramel highlights are the perfect choice. The subtle difference between these shades makes your style pop without creating too bold of a color contrast. Thin ribbons of color also make this color easy to grow out and won't leave your hair looking overly processed or artificial.
Golden Chestnut Balayage
Chestnut brown highlights with golden tones are a great way for women with medium to dark complexions to warm up their naturally black or dark brown hair. Applied strategically to create a strobing effect, these chestnut highlights look luxurious and are easy to grow out.
Dark Chestnut with Subtle Gold Babylights
How do you enhance a dark shade of chestnut brown without completely switching up your look? Use golden babylights distributed sparingly throughout the ends to bring brightness to your look without turning you into a blonde or leaving a noticeable line of demarcation where highlights begin.
Dark Rich Chestnut
Dark brown hair color may be some people's basic shade, but it can be difficult to pull off if you weren't born with deeply hued hair. This rich shade of chestnut brown is perfect for women who were born with naturally black strands, but also works surprisingly well for darkening up medium mousey brown hair colors.
Chestnut and Caramel Balayage
If you're looking for a way to brighten up your dark espresso locks, this super subtle balayage adds tons of extra definition to your locks. Mixing shades of chestnut brown and medium caramel, this balayage style makes the most of sparing highlights.
Medium Dark Chestnut
The warm reddish tone in Princess Kate's chestnut locks are part of what's made her such a style icon. If you prefer timeless looks over following every trend that comes along, this rich hair color will leave you feeling like royalty.
Dark Chestnut Underlights
Chestnut highlights are a good option for subtly lightening dark hair. If you're looking for a highlighting technique that's especially subtle and easy to grow out, try underlights placed throughout the hair's middle and inner layers.
Light Chestnut
For fair complexions with warm undertones, light chestnut brown hair is perfect for brightening up your face in the summer months. Green eyes look especially nice against the subtle red tones in this chestnut brown hair.
Rich Chestnut with Babylights
Add auburn highlights with a subtle babylighting technique to warm up a rich, dark shade of chestnut brown. This is a great style for professional women looking for a luxurious hair color that's suited to any occasion and grows out easily.
Chestnut Highlights on Black
Black and chestnut brown are a striking color combination on women with medium to dark skin tones. You can achieve this look with chestnut highlights on naturally black hair, but espresso lowlights on a chestnut base color will create the same effect.
Medium Chestnut Auburn
This dark but warm shade of chestnut brown features a brilliant auburn shimmer that makes it a good choice in almost any season. If you'd like to try this color style with a cooler complexion, go for an auburn highlight with some equally cool blue tones.
Textured Chestnut Waves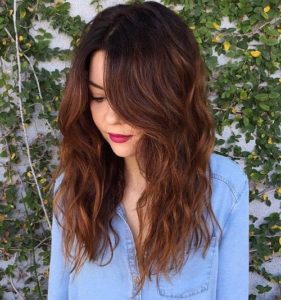 Lots of our favorite chestnut looks use highlighting techniques to create definition or strobing effects in long hair. But the simple wavy texture of this hairstyle shows how simple chestnut can enhance your look without being too fancy or over the top. A slightly darker root creates some definition in this look while keeping things low-key and natural.
Warm Dimensional Chestnut Brown
Want to do chestnut brown with an ultra glamorous feel? This bombshell brunette look reminds us of Kim Kardashian's time wearing a warm shade of chestnut. If you've got big, sexy hair that you're looking to wear somewhere between blonde and black, this is a must-have shade.
Light Chestnut Color Melt
Color melting is a next-level technique that involves seamlessly blending hair from one shade at the roots to another at the ends. When the shades used are all in the same family, the end result can be luxurious yet natural. This light chestnut brown color melt is an excellent choice for women with fair to medium complexions.
Chestnut Balayage
Use a medium to dark chestnut brown balayage to accentuate a trendy textured lob haircut. For women with natural locks that are black or espresso, these highlights grow out like a dream, requiring minimal touch-ups as you see fit.
Medium Coppery Chestnut
A medium to dark shade of copper provides the perfect accent to a medium chestnut base color. Warm copper is a great addition to women with equally warm undertones, and works well on everything from fair to dark golden brown skin tones. You can wear this shade any time of year, but its pumpkin spice vibe gives off a particularly fall feel.
Single Tone Medium Chestnut Brown
If you're into chic hair color that's timeless instead of trendy, we recommend single-tone color instead of the latest highlighting techniques. Slightly darker and with more cool tones than a coppery chestnut look, this medium chestnut brown is a good choice for women with neutral or cool tones in their skin.
Dark Chestnut Balayage
Dark chestnut brown and copper tones play together beautifully in the balayage highlights throughout this textured, mid-length haircut. If you're after a chestnut brown hair color that's just as trendy as your cut, we're all about this warm, bold balayage.
Champagne Chestnut
Lighten up your chestnut base color with a sparkling champagne ombre. More muted tones make this an excellent choice for women with fairer skin, and even the palest complexions won't be washed out by this hair color.
Warm Golden Chestnut
If you've got medium or dark tan skin like Rihanna, choose a chestnut brown hair color with lots of warm golden tones.
Face Framing Chestnut
Brighten up your natural dark brown hair color with a few hints of face framing chestnut to bring some depth to formerly flat locks. Quick to apply and easy to grow out, this chestnut hair color offers easy upkeep for low maintenance locks.
Medium Chestnut
We've loved Rachel McAdams with blonde and strawberry locks, and this natural shade of medium chestnut offers a darker alternative to her signature warm shades of hair.
Warm Chestnut Sombre
If you like the look of ombre without the obvious line where one color ends and another begins, try a sombre style. This subtle ombre is perfect for blending warmer chestnut highlights over a slightly darker shade of brown.
Subtle Chestnut Brown
Subtle hints of golden and chestnut brown can punch up natural brunette locks without leaving you looking like a different person. Give this look a try if it's your first time coloring your hair or if keeping your look natural is a top priority.
Dark Chestnut Bob
This chic bob haircut doesn't need much in the way of color enhancement. A dark chestnut base color with ultra subtle highlighting helps to keep this cut from looking dated or dull.
Golden Chestnut Highlights
Using thick ribbons of color to contour the hair, these golden chestnut highlights are perfect for accentuating thick locks that are usually styled into perfect waves and curls.
Ashy Chestnut Waves
This brilliant brunette hairstyle features some chestnut brown warmth at the roots and around the face, while the ends are left a darker brown with cooler undertones. Try this look if you're interested in multidimensional hair color that breaks away from typical dark roots, light ends styles.
Warm Chestnut Curls
Use a warm chestnut shade to enhance natural curls and bring out warm tones in the skin. Before you permanently lighten natural hair, we suggest seeking a professional consult to be sure your strands are healthy enough to withstand the coloring process.
Chestnut Caramel Ombre
With dark chestnut roots and warm caramel ombre, this mid-length style is fun, trendy, and easy to grow out.
Rich Chestnut
Lana Del Rey's dark chestnut brown hair color creates a bold, almost gothic look when worn with dark red lips and nails. Glamorous but understated, this single-tone hair color works especially well with vintage fashion and aesthetics.