Summer Dresses For Curvy Women
Summer can serve as the ideal time of flaunting your curves with gorgeous dresses in an array of colors and prints.
Summer can serve as the ideal time of flaunting your curves with gorgeous dresses in an array of colors and prints. Your main aim here should be to bring a fun element into your dressing ritual as that can help you stay abreast of the latest trends in a hassle-free manner. Today we are going to take you through some expert prescribed tips of summer dressing which can impart a slimming illusion to your frame and make you stand out in every event you're attending.
The best summer dresses for curvy women are the ones made up of cotton and not polyester as they are much more breathable and cause less sweat. This, in turn, does not cause your clothes to cling on to your curves thus helping you camouflage all your problem regions.
You can banish all chances of inner-thigh chafing by wearing shorts under dresses on hot summer days. This can keep your crotch area dry and even act as a lifesaver if your dress blows up by any chance in the wind.
Short shorts might cause discomfort especially if you have a curvy booty. This is where cuffed boyfriend shorts come in for hitting you at your mid-thigh for revealing your beautiful curves in the trendiest manner possible.
While choosing summer dresses for curvy women, you can opt for the ones having a halter underarm as that can increase the breathability of your skin while looking adequately flirty.
You can prevent your dress from flying up in the back by opting for a hi-low hemline. The longer backs of these dresses can act as a lifesaver for plus size ladies when the weather gets windy and they forget to wear shorts.
There was a time when summer dresses for curvy women had to be restricted to the shade palette of dark and muted colors. But coming to 2019, plus size fashion has undergone a heavy makeover in terms of bold color palettes which can accentuate your curves in a vibrant manner to help you make a fashion statement. Be it a dash of teal, sprinkle of pink or citrus, you can take your pick amongst diverse color shades as per your choice. You can also go ahead with dresses having colorful separates for rocking the color blocking style with panache.
Prints and patterns can serve as a great means of drawing attention towards your most flattering areas while camouflaging the rest. These are a must-have trend amongst summer dresses for curvy women as they elude an aura of style and confidence which can turn you into a queen bee in every event you attend. When in doubt, you can readily opt for florals, an evergreen summer trend you hardly can go wrong with.
Layering can be pretty difficult during the summer months as you can just end up feeling uncomfortable. This is why you need to opt for natural and lightweight materials while layering the summer dresses for curvy women. You need to also be cautious about planning your entire outfit so that your entire look doesn't get upset by removing just one layer of the garment.
The best thing about summer dresses is that you can exercise maximum versatility without ever getting bored of the same. A shift dress can bring along a refreshingly feminine aura with its intricate lace detailing as well as scalloped hemline. You can also bid adieu to all chances of bumps and rolls protruding from underneath your light hued dresses by trying on some nude shapewear.
You can shift focus from your heavy middle region by choosing a cold shoulder dress which can emphasize your pretty face as you strut under the sun like a complete diva.
Shift summer dresses for curvy women can serve as a flattering option as it falls straight down from the shoulders rather than nipping at the waist. This makes it the perfect choice for ladies who wish to distribute their weight throughout their frame so that any particular area does not seem overemphasized.
The best thing about wrap dresses is that they can create an illusion of an hourglass figure which can easily flatter the curves of plus size ladies. You can even opt for the ones having geometric stripes and patterns for preventing by-lookers from focussing on a particular spot which you would have otherwise wanted to camouflage.
T-shirt summer dresses for curvy women is the ultimate nirvana for those who like to blend in style and comfort in a beautiful manner. The easy-going and sporty flair of the t-shirt dresses looks best when paired up with loafers. This can serve as your go-to option on those events when you are running late for something or maybe are feeling confused about what to wear amongst the diverse wardrobe options.
The beautiful maxi dresses look gorgeous on plus size ladies who wish to showcase their fashion-forward side. These breezy dresses can serve as a flattering option for showcasing your beach vibes to perfection as they impart adequate coverage to your legs and tummy with comfortable fabrics.
Fashion moguls swear by accessories for completing your entire look whether you are trying to be party-ready or simply office chic. All it needs is a few statement pieces which can be worn with a large selection of your wardrobe and you are all set to win the fashion game in style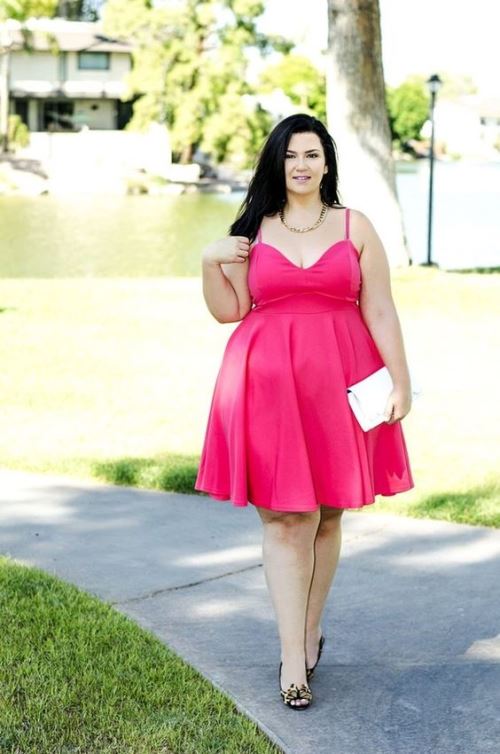 You can accessorize the summer dresses for curvy women with colorful pieces which spark the imagination. Rose-tinted sunglasses, a purple hat or a green belt can make everyone sit up and take notice of your timeless style. The same also holds true for gold and black statement pieces which are ideal for a glamorous night out with your bunch of girlies during summer.
Bottom-line
The first thing which comes to our mind whenever we think of summer is the scorching heat and maybe that's why we try to cover up our flattering curves under yards of fabric. But it is actually possible to strike the right cord of harmony between style and comfort with an intelligent selection of summer dresses for curvy women which can help you enjoy the sunshine on your shoulders and that too without having to sacrifice on the level of comfort.