The social media trends have been going far in the technology that our young generation cannot live without it. Well, this is so, for a good reason. Not surprisingly, the technology has provided so much awareness among the public that in order to keep pace with the happenings in the world, every person is in the race of social media following.
Among the number of social media platforms, Instagram is the biggest name that has got all the biggest names from the world. Considering that, you might be wondering which celebrity stylists to follow, you are at the right place.
From celebrity stylists like Johnny Wujek to Micaela Erlanger, there are a number of stylists that you definitely need to follow. Get a sneak peak of our top 5 fashion stylists and awe over.
Which Celebrity Stylist to Follow on Instagram?
Let the countdown begins:
#1: Rachel Zoe:
Rachel Zoe is one of the biggest names in the American fashion industry. She is a fashion designer and is known best to work as a stylist for the famous celebrities including Anne Hathway, Harper's Bazaar, Jimmy Choo, Brad Pitt and Gwyneth Paltrow.  Her official Instagram account goes with @rachelzoe.
#2: Micaela Erlanger:
With the clients like Lupita Nyong'o, Jared Leto, Michelle Dockery, Meryl Streep and Naomie Harris, Micaela Erlanger is next on our suggestion list to follow. She is known to turn a number of celebs into the red carpet stars and that is the reason why she owns millions of followers on her official Instagram account @micaelaerlanger.
#3: Karla Welch: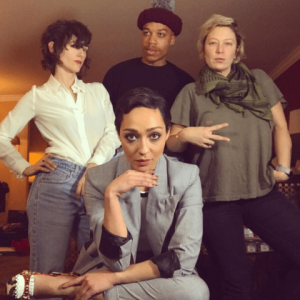 With the 85.5k followers, Karla Welch has captured the 3rd spot on the top celebrity stylist to follow on Instagram. Karla Welch has got a number of well-known celebs styling under her name including Sarah Paulson, Michelle Monaghan, Ruth Negga, and Amy Poehler. Her official Instagram account goes with the name @karlawelchstylist.
#4: Cristina Ehrlich:
This celebrity stylist has styled a number of famous celebrities including Penelope Cruz, Amy Adams, also for Vanity Fair, L'Oreal and Harper's Bazaar. Her Instagram account @cristinaehrlich has got 56.9k followers and counting.
#5: Kate Young:
With an amazing clientele from Selena Gomez to Natalie Portman, from Sienna Miller to Margot Robbie, Kate Young is another well-known celeb stylist to follow on Instagram. She knows well how to turn a celeb into a fashion girl and that's what makes her that much wanted. Her official Instagram id is available @kateyoung.
For more news and gossips regarding the celebrities and fashion, keep visiting us!
To comment on this article and other NiceStyles contents, visit our Facebook Page, Google Plus Page, Pinterest page, Instagram Account or our Twitter feed.