Pixie Short Haircuts for Women
These edgy pixie haircuts for women are the high-end haircuts currently on offer in international hair salons
These edgy pixie haircuts for women are the high-end haircuts currently on offer in international hair salons, so take a good look!  From what to wear with a little black dress, to the latest 'peaked cap' quiff – these are the looks chosen by the world's rich and famous women of style.  And as no-one is perfect, no matter how rich they are, you'll find fabulous short haircuts to balance a long/round face, or minimize a large nose here, too!  We may not own a yacht, girls, but we sure can get the look!
'Less is more' chic pixie haircuts for women
The latest pixie haircuts are perfect for wearing with any fashion style, but this minimalist look is ultra-chic!  The basic shape is a contemporary short-back-and-sides, with long layers on the top.  This allows you to create a sophisticated version of the faux-mohawk with height that flatters oval and round face shapes.  It's also good for anyone with a low forehead.  Texture in the sides and back adds interest and contrasts with the smooth finish of the long layers on top.  The color is ecru-blonde, an off-white shade like unbleached calico.  And adding warmth, there's a hint of dusky-pink at the roots and peach tones edging the sides and back!
Rippled brunette with iced-copper balayage – pixie haircuts for women
Here's another fabulous pixie cut for straight hair, with exciting use of texture taking the place of waves or curls.  The shape is asymmetrical from a side-parting which allows longer layers to be styled into an off-the-forehead fringe.  It's not quite a quiff, but more of an exaggerated side-swept fringe that adds lots of shape and style to the profile view!  The top is styled in a ripple-effect with gorgeous copper-beige balayage highlighting each section.  The sides are long enough to be neatly combed behind the ear in a super-chic, copper-brown short haircut!
Sporty pixie cut on black hair shows cute ear tattoos – pixie haircuts for women
This is a great cut for medium to thick dark hair which has a little natural wave.  The style is layered through to control thick hair, with extra height adding attractive roundness at the crown. Short side-points, and shaping around the ear, show-off the model's cute tattoos and create a sporty look for this easy-care, short hairstyle.  The back is closely clipped into the nape for a smooth line and you can opt for a straight-across line, or a trendy V-shape.   The front is styled to frame the face and the pretty waved mini-quiff adds height to flatter a round or square face.
Extreme pixie cut for women – how to balance a long narrow face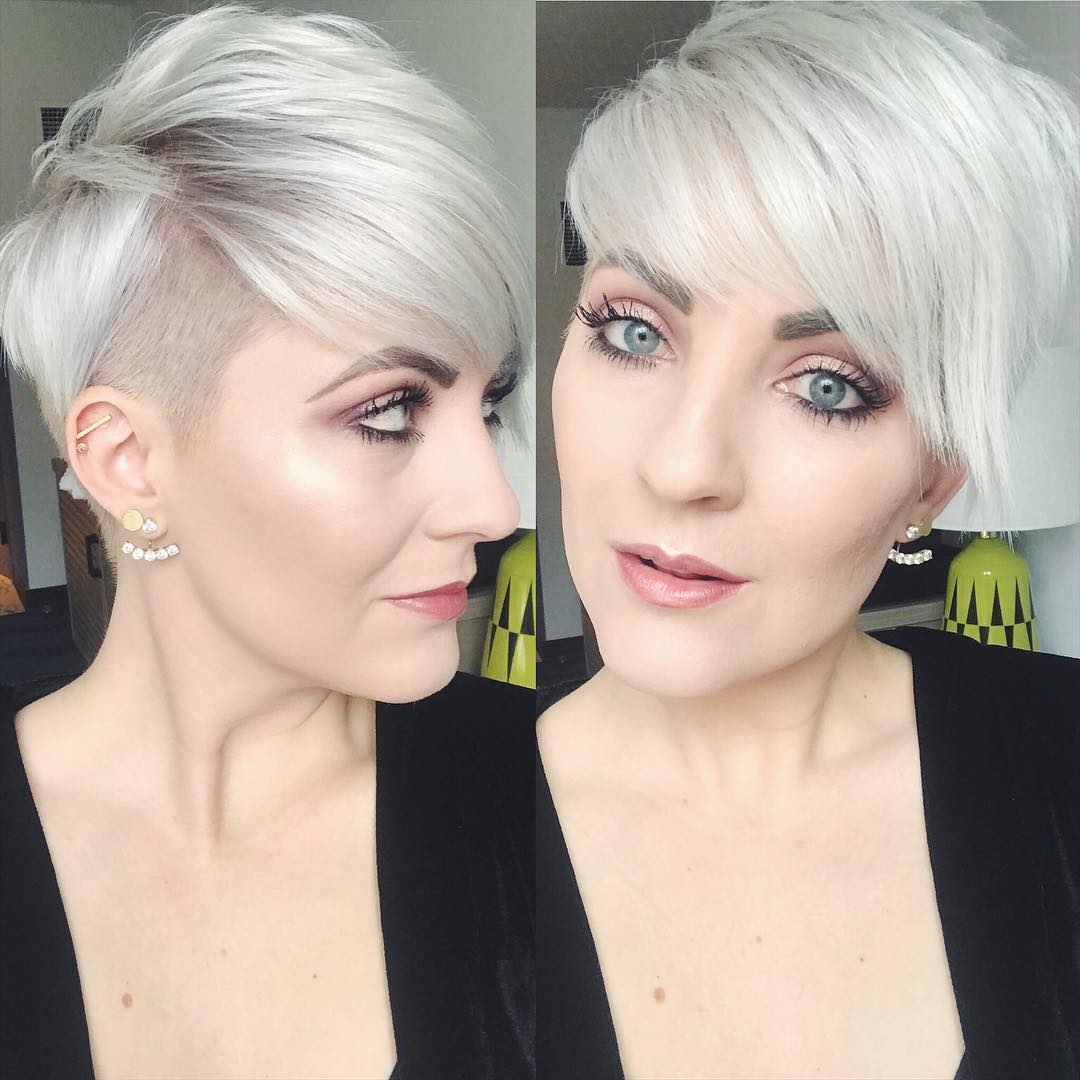 The model actually has a long, thin face shape – but this expertly shaped pixie cut covers her forehead reducing the length. Look how those gorgeous, blue-green eyes have been framed by a cleverly placed platinum fringe!  The longer side is tapered to end just by the cheekbone and then lightly flipped-out adding width to a narrow face.  Combing hair forwards from just below the crown and against its natural growing direction, adds volume and shape to fine hair.  The asymmetry is extreme on the short, clipped side with a 'shadow-cut' section.  And this draws attention to the cute ear-accessories to one side, and minimizes the impression of a long face!
Minimize a long nose & accentuate your tattoos – edgy short haircuts
This model is a high-fashion hairstyles fan with a very stylish black cat tattoo decorating the nape of her neck.  And the pixie cut she's chosen is perfect for highlighting her best features and minimising a slightly long nose.  Instead of leading the gaze down the centre of her face, which would draw attention to the nose, a deep side-parting creates a focal point way-off to one side.  And the strong diagonal line of the fringe leads the eye across the face and down to the other side, where it accentuates the eyes and cheekbones.  Ash-blonde color adds a trendy finish to a fabulous, asymmetrical short pixie haircut!
Forward flips & 3-D color depth on fine-hair pixie hairstyle
This young model is definitely ready for her 'entrance' at some swanky event!  And she's matched her trendy, boho fashion style with a cute and quirky pixie.  The asymmetry is kept soft and smooth, showing off the silky texture of fine hair.  But the half-pin-curls highlighted in blonde certainly add trendy texture to the shorter side.  Notice how the tips draw attention to the eyes and cheekbones, which are also framed by the softly draped bangs.  The nape is left longish and also tipped with blonde to echo the neutral-blonde balayage-ombré above.
Spiffy medium ash-blonde short haircut with metallic finish
What could be cooler than this 'gun-metal' blonde shade on a sassy youthful pixie cut!  Medium ash-blonde shades suit medium complexions with a cool undertone, but you may also need a little more blusher than you normally wear to get a good color balance.  This is a pixie-bob shaped cut, with a shaved nape, for fine hair that's not thick enough for a stacked-layer back.  But you get the same lively effect, with long layers creating chunky volume at the crown and that adorable silvery-blue fringe accentuating sparkling, blue eyes!
Copper-orange textured asymmetric pixie with balayage
This warm shade of copper-brown is perfect for highlighting brown eyes and a pale skin with warm undertones.  The front view is super-smooth and chic, but there's lots of texture and movement in the sides and back.  The shorter side has a thick side-point, styled back and the longer side has a trendy, vertical part displaying a bare ear, plus your favorite ear-rings.  And hair radiating from the crown creates a fashionable, flat shape instead of the usual rounded crown.  Finally, cute orange balayage adds the perfect finishing touch!
Gorgeous gray pixie with quiff & ridge-waves for thick hair
If your hair has already gone gray and coarse, lucky you!  This is the perfect high-fashion look for your hair.  Otherwise, you'll have to pay for this fashionable, gray-blonde color with white blonde balayage!  The vibe is extreme asymmetry, with a deep side-part and a fabulous wavy quiff framing the forehead and eyes beautifully!  And seen in profile, you can appreciate the super, ridged effect on the top.  There's even more detail in the short layers with side-swept texture at the back.  Plus, just a hint of purple at the nape and green tones above!
Chunky ripple-waves & choppy finish – long to short haircut makeover
And today's final pic shows a chunky, rippled pixie with choppy details.  This new look is a lovely makeover idea to switch from girlish, long hair to stylish young woman!  It's a great style for medium thick hair that can hold a wave all day.  The longer side has defined ridge-waves, creating deep 3-D texture, and a modern, shaggy finish.  But the 'peaked cap' quiff adds a sweeping line that finishes with a cute strand accentuating the lips!