Balayage Hair Styles for Medium Length Hair
Medium-length hairstyles allow you to show off healthy, natural hair in a very flattering hair length. 
This season's balayage hair styles for medium length hair show once again how much better we look without those extra-long,  hair-extensions!  Medium-length hairstyles allow you to show off healthy, natural hair in a very flattering hair length.  The 'long bob' is also an extremely versatile length you can wear up, down or half and half!  So cast your eye over today's gallery of inspiring new balayage ideas on medium length hair.
Iced ash-brown on gentle waves – balayage hair styles for medium length hair
Can you see the unusual color finish on this long bob haircut?  At first glance, it looks like a clever photographic technique – but it's actually one of the latest 'ice-brown' hair colors!  And doesn't it look fantastic against the model's natural brunette roots!  This is a fabulous way to jazz-up brown hair, without adding blonde balayage that may be too artificial for your taste.  So if full-on ash-brown is too color-draining for your complexion, try this super-cool 'iced-chestnut' shade instead!
Groovy lavender balayage hair styles for medium length hair
Hair colors and balayage combos have changed so swiftly these last two years, that it's easy to constantly refresh your look!  And I must say I find each new and unconventional balayage trend really appealing.  If someone had told me 5 years ago that I'd be raving about beige and lavender balayage, with white blonde highlights, I would have been amazed. LOL!  The trick to pulling-off cold colors like lavender and white, is to soften the look with a neutral beige base.  And you can't beat easy, twisty waves for revealing all the layers of color and shaggy texture in groovy, boho lob haircuts!
Freshen-up brunette with faded red balayage hair styles for medium length hair
Red hair color is a very popular way to add personality to dark brunette tresses.  And you can see its appeal in this contemporary balayage design on medium-length haircut.  The basic cut is a same-length 'long bob', with the ends carefully textured to add a jazzy, uneven edge at the tips.  There are actually 3 or 4 shades here, but they're so well harmonized and distributed, you get a lovely, warm, overall impression.  So this faded red balayage is perfect for anyone with coffee-dark hair that needs freshening-up without looking unnatural or over-the-top!  Super way to cover unwanted gray hairs, too!
Lively beige & ash balayage hair styles for medium length hair
Get this ultra-trendy look by using your straightening-iron to create wavy movement with spiky ends.  Hair is combed over the forehead, revealing the model's lovely rounded brow.  And the wave is at the perfect spot to accentuate her eyes, cheekbones, and lips.  The color design is a blend of beige-blonde shades, giving a natural vibe, with bright blue-white accents on the shaggy tips.  It's casual, blonde glamor for busy gals at its best!
Pretty lavender-pink balayage for shaggy lob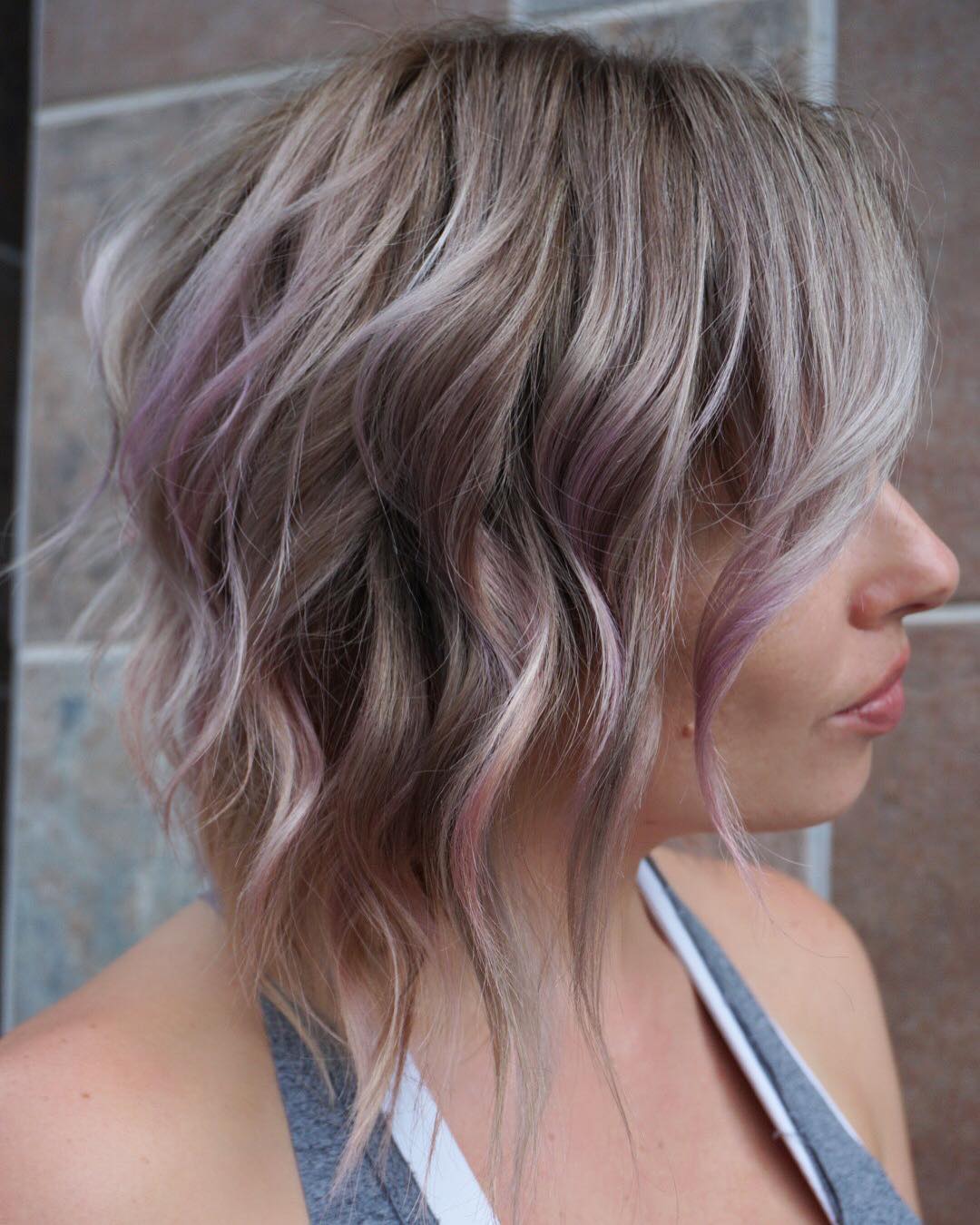 Instead of the full-on fantasy color balayage of purple on white-blonde, try this subtler color combo.  The base is natural medium-beige, with fresh lavender-pink and ash balayage.  The result is more sophisticated than over-the-top pink, and carefully textured tips add lots of youthful personality.   This style is best achieved on medium and thick hair, cut in 'sliced layers' that remove bulk at the ends.  The twisty waves are so simple to do and the tousled texture means you won't need to be checking your hair every five minutes!
Bone-white blonde with beige balayage – long bob style
This bone-white long bob hairstyle is a real eye-catcher!  Instead of the main color being darker, with blonde highlights, this is a reverse look.  White hair is softened by light golden-beige balayage placed carefully from top to bottom, making the hair seem longer.  The tips of this mid-length haircut have been heavily textured to create a shaggy vibe in the last two or three inches.  Darker roots add 3-D color depth, without being too obvious, and the warm beige waves are cute on this casual tousled look!
Romantic soft-beige blonde balayage ideas for mid-length hair
Here's a trendy, easy-care hairstyle popular with 'yummy mummies'.  If you're not sure who they are, they're the thirty – forty-something mothers who have found their signature style and always look fashionable.  The style is simplicity itself to manage, with a gently-graduated bob and textured tips adding a shaggy, youthful vibe.  You can wear it with different types of wave, and in an upstyle or chignon for chic evening events.  And this soft blend of beige and blonde, underpinned by brown roots, is very alluring!
Mink-beige with oat ombré – retro lob hair styles
If you haven't come across it before, 'mink-blonde' was a very popular shade in the 1970's.  It's beige, with the slightest hint of coral-pink as you can see in the roots above.  This mid-length style, with waves in the ends of the hair is also a retro hairstyle.  So this cut and color fits in perfectly with this year's strong trend for 1970's fabrics and fashion styles.  The front can have a centre or off-centre parting depending on your face shape.  And shorter layers soften the face and frame the eyes!
Shaggy tips on beige with blonde balayage – fresh long bob haircuts
Smooth sophistication on beige-blonde lob with neutral balayage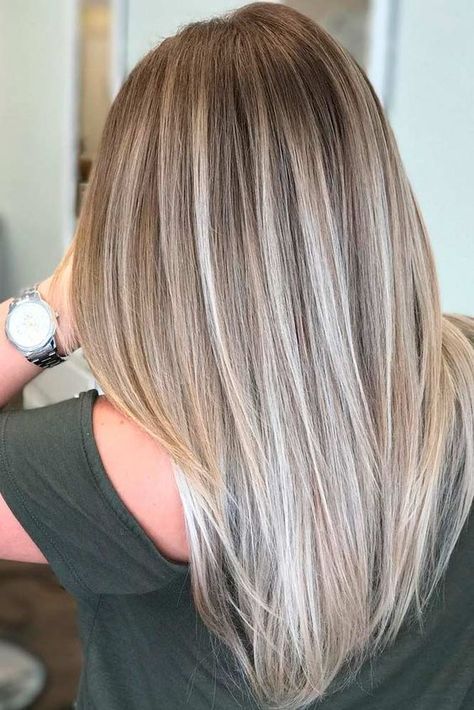 This is a little bit longer than medium-length – but I wanted to include it to show the fabulous color design!  The taupe roots look totally natural and amber-blonde adds a touch of warmth at the sides and around the face.  The back is cut in one long, disconnected layer that's graduated into a soft, V-shape.  And there's a very modern twist in the dramatic, ivory-blonde vertical highlights.  I love this contemporary and classy version of long, blonde hair!