10 Gorgeous Messy Braided Long Hairstyle Ideas
The release of these trendy, messy braided long hairstyles means it's time to choose your summer-casual, and wedding, styles!
The release of these trendy, messy braided long hairstyle means it's time to choose your summer-casual, and wedding, styles!  This selection of 10 high-fashion braided hairstyles is designed to make choosing a special half-up style an absolute pleasure.  So whether you want a relaxed look for outdoor weekend pursuits, or a semi-formal beach-wedding style – come on in and join the, 'come as you are', party!
Brunette side-braid on warm beige-blonde – messy braided long hairstyle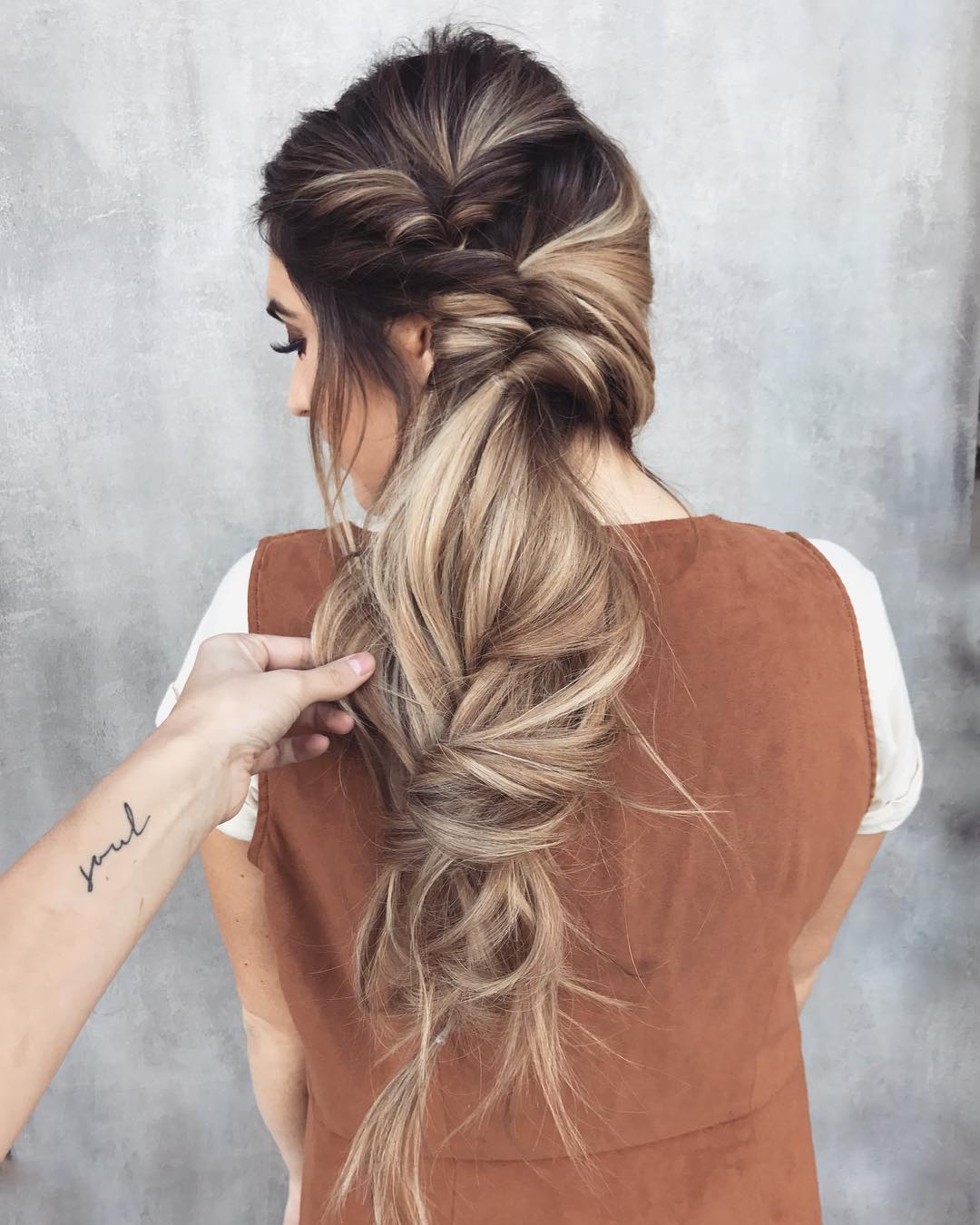 Messy long hairstyles are a key look for summer wear this year.  So this half-up style brings another new look for trendy gals! The lovely blend of dark and light shades creates wonderful patterns in thick twists decorating the back and side of the head.  Beige shades mixed in the ultra-loose, braided hair draped down the back make 3-D texture.  And that's a super way to make your hair appear thicker.  Loose side tendrils soften the line around the face in this super, smart-casual look!
Rustic style with glam twist – messy braided long hairstyle
For the avant-garde bride who's proud of her original style, this long blonde look with a giant, floral corsage could be just what you're looking for.  Hair is parted down the center-back in a school-girl touch, before the hair is braided in a very chic, inside-out pattern.  Mid-gray roots show up beautifully against the white-blonde ombré.  And the asymmetrical side ponytail is a show-stopper all on its own!  Loose strands at the sides keep the look casual enough for a semi-formal wedding or any outdoor date, when you want to make a relaxed glam impression!
Pretty waterfall braid & cute blue ombré – messy braided long hairstyle
There's a pleasing touch of fantasy added to this contemporary half-up braided hairstyle on long hair.  The top is a natural-looking shade of hazelnut, which lightens gradually through beige-pink to blonde, finishing with pretty blue balayage and ombré.  So it's definitely a new and original color -design from a colorist with lots of artistic talent.  The cute, circlet braid and lovely back braid with pulled-out flat detail are youthful and dainty, in a fresh and feminine new look!
Boho glam ponytail & scarf – messy braided long hairstyle
Here's a dashing look that's perfect for summer evenings drinking cool wine with a group of friends!  The flat side braid decorates one side of the head in an asymmetrical touch and then transforms into a messy herring-bone braid.  The black and white striped scarf echoes the dark roots under a real cascade of pale, natural-looking, beige-blonde.  The profile view shows an impressive silhouette with exaggerated volume at the crown adding a trendy, 'Sex in the City' vibe!
Matching bride & bridesmaid – tousled half-up hairstyle
These two gorgeous messy half–up styles illustrate perfectly how the same basic hair colors have been tailored to suit different skin tones.  And that's why we always recommend you go to an experienced colorist for any big change to your natural color.  The hair on the left has more golden tones than the cooler blonde balayage on the hairstyle to the right.  As one size does not fit all, remember that skin with warm undertones needs warm beige blonde balayage.  And skin with cool- or neutral-undertones looks lovely with cooler neutral beige-blonde shades.
Sophisticated ash-blonde half-up hairstyle
This is a genius hairstyle that blends a sophisticated top half with tousled, sexy loose hair beneath.  What could be better for a special date or an alluring bridal hairstyle?  The ash-blonde color has plenty of beige tones to soften the effect for skin with a warm undertone.  Fresh, new twisted barrel curls add attractive pattern and texture above a lovely gray and blonde horizontal braid. It's a gorgeous and original look for any special event!
Romantic half-up hairstyle with braid detail in beige-blonde
With an off-the-shoulder Bardot blouse and hair spread sexily around bare shoulders, this is a super-attractive young look.  Two pretty braids add 'traditional village maiden' appeal around the crown and the 3-D texture of a flat braid down the back is a sophisticated touch.  The blonde shade is a lovely blend of light taupe and beige-blonde making the hair look very natural.  It's a gorgeous style for long hair that's bound to win hearts wherever you go!
Sexy messy half-up braid with waves
I wouldn't recommend this for an evening event or everyone will think you were drunk when you arrived! LOL!  However, pictured on a model wearing casual jeans and a t-shirt you get the impression of a very relaxed individual, with a super-cool approach to life.  It is a lovely young look for long hair, combining soft colors and soft waves in a very alluring way.  Brunette roots change gradually to chic and natural looking beige-blonde cascading down the back – beneath a 'wonky' off-centre flat braid that's really very sexy!
Platinum-blonde over mid-taupe roots with trendy braid detail
Fabulous, isn't it? And you don't need to wait 5 years to grow your long, because anyone can fake this gorgeous look on mid-length hair.  All you need for this stunning summer wedding style, is a faux ponytail!    The roots are dark, but in a trendy gray shade that's softer than black roots.  And the platinum blonde shade has beige tones to add a little balancing warmth to the pale blonde shade.  Braided detail and a nice mix of vertical and horizontal movement around the head show off the texture and color, above that irresistible long, blonde ponytail!
Gorgeous messy jumbo braid over loose beige-blonde tresses
Just looking at this model's fabulous hairstyle and classic female pose, creates the impression of fashion-confidence.  It's a very eye-catching half-up style suitable for summer dates in a hip urban location.  Or I can picture this look with bikini and shorts at a romantic beach barbecue!  The jumbo loose braiding adds plenty of shape to a straight long style.  And darker roots accentuate the 3-D texture.  Loose waves with 3 or 4 blended shades of blonde, and white balayage, create a relaxed, but expensive look!