When it comes to their hair, most men are looking for a mixture of something that's easy to style but also looks great. Longer styles offer up modern trendy looks, but short back and sides haircuts are a favorite choice when it comes to low maintenance hair that doesn't fall flat. Keeping your hair shorter around the ears and hairline creates clean lines that make you look put together even when you're having an off day. Even with combined with longer hair on top that's perfectly styled, the short back and sides help to cut down on the time you spend in front of the mirror and make your hair more resistant to hectic days. If you want to see all the different ways a short back and sides haircut can work for you, check out our 30 favorite styles.
Brushed Forward Taper Cut

Leaving your hair longer on top offers up more styling options, but that doesn't mean you have to get fancy with your styling routine. This ultra simple taper cut brushes hair forward on top so that it looks neat but doesn't lose natural texture. We recommend using a light hold product like styling cream to help add some soft definition to the look.
Taper Fade Quiff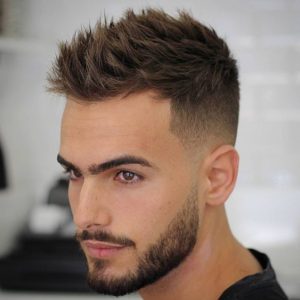 A classic tapered fade around the back and sides of this haircut helps balance out the fun and vibrant quiff styling on top.
Crop with Tapered Undercut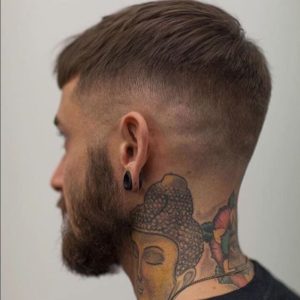 This crop haircut combines the cool fringe of a Caesar with hair that's longer on top and more amenable to soft styling. A slight drop in the back of the tapered fade helps to balance out an oblong head shape, but keeps things short enough that you won't need to worry about styling the back of your hair.
Medium Tapered Fade/h2>

A medium taper fade with fresh edge up is a classic choice for short men's hair. If you're into sharp looks that require minimal styling, regular trips to the barber will keep this haircut exactly where you want it.
Crew Cut with Long Fringe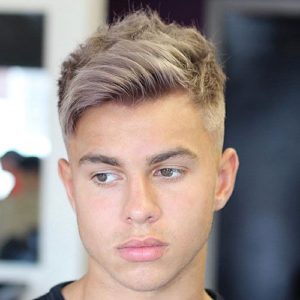 This style helps to subtly add some volume and length to the top of your head, but doesn't take a ton of effort to style or maintain. Try it out if you've got a round or oval shaped face.
Slicked Back Drop Fade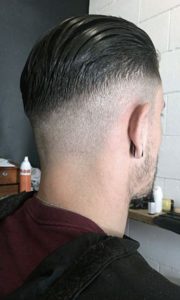 Slicked back styles can be edgy and fun, but also time consuming if you've got a full head of longer hair. This dropped undercut adds a contrasting texture to your slicked back style while cutting back on how much time and product it'll take to perfect your look.
Caesar Undercut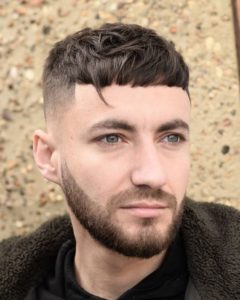 One of the most dramatic styles on our list, this Caesar undercut proves that a short back and sides haircut doesn't have to look boring or straight-laced. Unlike ultra short Caesar styles, wearing this cut a bit longer on top gives you some room to play with different styling techniques, letting you opt for a tousled, messy texture as pictured.
Sharp Tapered Curls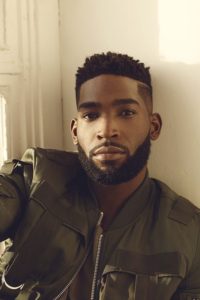 With natural curls left a bit longer on top, this taper cut adds some height to your look and provides an excellent canvas for using a tool like a curl sponge.
Hard Part Comb Over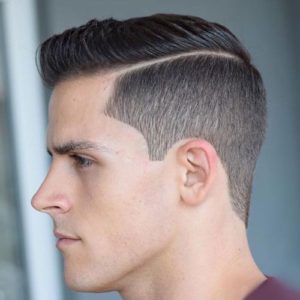 This ultra neat haircut features a perfectly sculpted hairline all the way around, which makes a great frame for the subtly tapered shorter hair around the back and sides of the head. The hard part extends all the way to the crown of the head, creating a ton of definition that works well on thicker hair.
Straight Fringe Crew Cut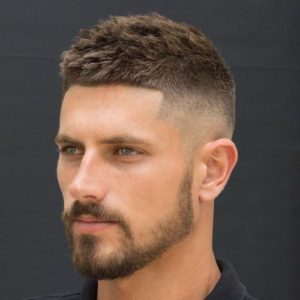 If you've been thinking about doing something more unique with your short back and sides haircut, try this straight fringe style. With its straight line cut right up against the hairline, this style looks unique but remains easy to take care of.
Soft Comb Over with Undercut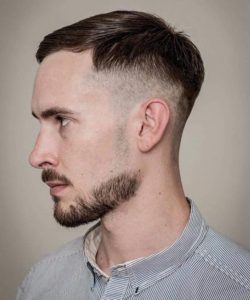 With a contrasting undercut around the back and sides, this soft comb over style is a surprising mixture of classic and edgy. Give this one a try if you're looking for a fresh take on a short back and sides style.
Taper Fade with Soft Texture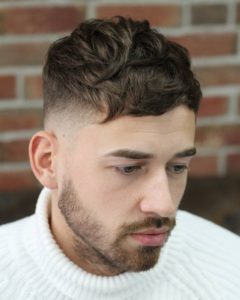 Leave your hair longer on top to get this understated soft texture. We love this look for guys who don't like stiff hold styling products, and it's especially easy to pull off if you've got a bit of natural wave in your hair.
Side Parted Crew Cut
The soft part in this longer crew cut helps to add some definition and dapper style to an otherwise straightforward haircut. A lower fade helps to provide some more coverage of the skin, giving this all the convenience of a short back and sides style with a softer look than a bald skin fade.
Curly Taper Fade
With a square shaped taper that extends high up the head, these curls are perfectly framed. Try this haircut if you're looking for a way to enhance your curls while making them easier to style.
Short Taper Fade Caesar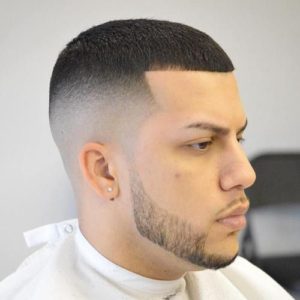 This ultra short version of a Caesar haircut adds an extra touch of style to a basic taper fade haircut, but won't add much extra time to your styling routine.
Medium Undercut
With a fairly straightforward style on top and a medium height undercut, this is one of the simplest ways to look stylish and modern with a short back and sides haircut.
High and Tight Crew Cut
If simplicity is at the top of your list when choosing a haircut, this short back and sides style has everything you're looking for. Minimal styling is required between trips to the barber, and it works in every job from the ultra professional to intensive labor.
Brushed Back Undercut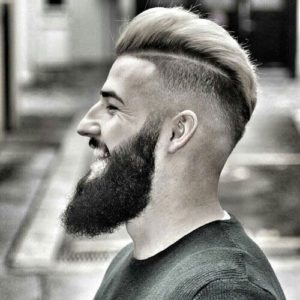 If a super slicked style is a little too vintage for your tastes, try styling your short back and sides undercut with some brushed back volume instead.
Short Crew Cut
This high and tight haircut has the perfect blend of easy, low maintenance style and cool edge. If you're used to wearing your hair longer at the back and sides, you'll be impressed with how this style slims your face and helps accentuate your jawline and cheekbones.
Tousled Taper Cut
If you're caught between wanting to cut your hair short enough to be manageable but you don't want to completely hide your natural waves, go for a taper cut that's short at the back and sides.
Side Swept Crew Cut
Looking for a classic men's cut that can be worn with plenty of youthful style and edge? This crew cut never really goes out of style, featuring a short back and sides that make it look clean and crisp on any occasion.
Twisted Taper Fade
Mix your twisted texture with an undercut back and sides for easy styling and upkeep.
High Fade Caesar
A high skin fade helps to set this Caesar haircut apart from more basic versions of the look. With its short straight fringe and easy maintenance short back and sides, this style is perfect for men who want something edgy and different that's still easy to maintain.
Side Parted Curls
Growing your curly hair longer on top gives you lots of styling versatility, but can be intimidating if you're not used to wearing your textured strands longer. With short back and sides and a strategic soft part, your curls or waves will become instantly easier to manage.
Hard Part Crew Cut
Hard parts are great for accentuating hairstyles with lots of vintage flair, but you can also add one onto a simple crew cut with short back and sides. Whether you wear it with a full beard or hip handlebar mustache, the hard part helps to put some extra definition in your basic, low-maintenance haircut.
Modern Pompadour
Love old school styles but hate high maintenance hair? Try combining the vintage appeal of a pompadour with the modern ease of a short back and sides haircut. You'll probably need to use a blow-dryer to achieve this much height in your style, but you can still play it low-key on busier days.
Sculpted Hard Part Comb Over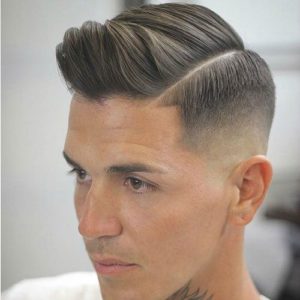 If you're looking for a haircut that combines the potential for fancy styling with the ease and clean look of a short back and sides, this modern style is a great option. Use the hard part to help define an ultra sculpted comb over.
Simple Slick Back
Instead of slicking hair stiffly into place, try softly brushing it back. Use a medium hold product that still allows movement and you'll be able to touch and manipulate your hair throughout the day.
Long Curly Bangs
If you're ready to do something more daring with your curly hair, try mixing a short back and sides with these longer bangs.
Spiked Undercut
This dramatic and fun haircut is a great way to balance out a round face shape. The short sides help to slim the face and put emphasis on your eyes, while cool spiked styling adds the illusion of height.