50+ Best Nail Art Ideas
We all like to dress and look well. But never neglect your lovely hands, dear ladies.
It's like I blinked and here I am – in the third month of the year, whose birth we almost celebrated yesterday. Winter is at its peak and sunny and happy spring and summer days are closer and closer every day. Autumn also can be wonderful because, after all, beauty is in the eye of the observer (people say so). When they are dressed and look beautiful, women are self-confident. They are more attractive and happier. It has been proven by science a long time ago. It's normal, of course, we all like to dress and look well. But never neglect your lovely hands, dear ladies. Remember honey babe, most expensive dress in the world is nothing on you if your hands and hair are not cared.
Manicure experts, Naomi Yasuda and Kim Round, have already presented some forecasts for upcoming trends. They are known for beautifying the hands of Madonna, Kim and Khloe Kardashian. They believe that the abstraction will dominate in the world of manicure this year, blue shades, but also discrete shades. Cobalt blue will be the main color in 2018., because it is sophisticated and extravagant.
Dark nail polish colors will be very trendy, and you can decorate them with just a few details. The less is more, the minimalism wins manicures world this year. For the glamorous look in 2018. use gold and silver color and lots of rhinestones and shine.
The fashion classic is nude color. This colors give a sensational and seductive look to the hands. These tones are simple, but your hands will always shine with you and look young and nurtured. Rhinestones are there to enrich every manicure and make it luxurious. In 2018. be free to combine the colors you currently have at home and decorate nails with a tiny dot or line in metallic color. Play with colors and wear what you like and what is in accordance with your current feeling. Only then you will be really seductive and shiny.
Never forget the hand cream and do not forget to protect hands from water. Only nourished hands are nice hands. Hand scrub is required from time to time.
The latest method of making nails is dipping. The nails made in this way last from 3 to 6 weeks, and the nail making process lasts about 30% shorter than the making nails with classic gel technique. Best of all, there is no boring and long nail file in this technique, and you can choose between 122 available shades. This is a healthier way because there is no use of UV lamps, and after the classic manicure, only the air-drying liquid is applied. The correction of this manicure, originating from America, is very fast and simple because the nails are melted in acetone. This is a very good technique for ladies who wore nails made with gel and UV lamps and want to recover them now.
This are our examples for your manicure in 2018. We really hope you will find something for you. Enjoy!
Source
When you go to the sea, this manicure will be a great choice, a femmine pink color combined with sea blue.
With acrylic technique there is no drying of nails in UV lamps, but classic drying in the air. Acrylic nails can be varnished as ordinary nails.
Gold and silver glitter gels are there for the glamorous look of your hands.
Black color does not have to be boring if it is refreshed with interesting details and combined with other colors. Blue is a hit this year.
Earth tones are a great choice for every occasion, they are easy to combine and you will surely look nice and like real lady with them.
Take care of the shape of your nail. Oval shape fits everyone.
Members of the younger population will choose this kind of manicure as well.
A manicure in a popular nude and pink color. I would take it in every situation because it is both – discreet and effective enough.
Whether you are going to opening an exclusive restaurant or to work, with this manicure you will look very seductive.
Flower details are modern during entire year, but especially during the summer months.
Even if you combine three and four colors in a manicure, you can look very elegant.
Cosmos on your nails. Discreet details and unrivaled colors do not diminish beauty. Sometimes what is discreet is the most beautiful and attracts the most attention.
Gentle colors in ombre style will give to your nails an cared look.
Matte colors will not have smaller popularity this year.
Gray nail varnishes have been very popular this winter. If the color fits nicely with your tan and nails, you do not have to give up of that beautiful gray in the summer months also.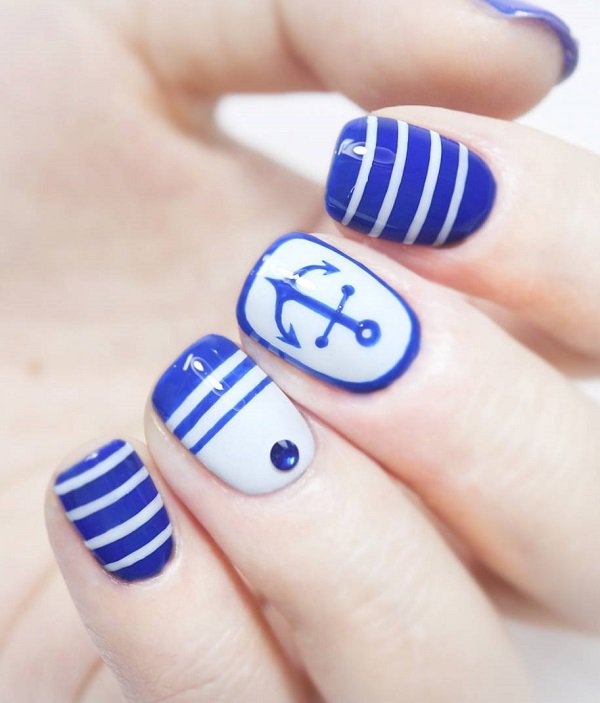 Sailor manicure and naval details are somehow always predominantly tied to the summer and to rest on a beach. It's the same situation this year.
Because of these patterns that remind on those on the sweaters, I would take this manicure in colder days.
Olive green color combines nicely with ocher, as you can see. A good choice will be throughout the year, and you can refresh this combination with the help of white or black, depending on which one you like more.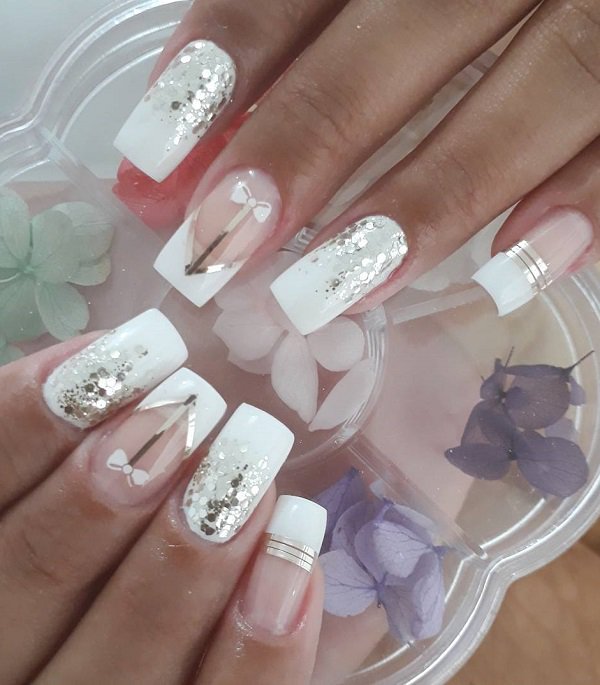 This is one of many ways in which you can enrich your French manicure. Gold or silver details, lines, points and rhinestones are always a good detail.
French manicure is a classic in the world of nails. Play with colors and be imaginative, you can complete this classic with any color or combination of two and more colors.
Many rhinestones and pearls can only make your manicure rich and expensive. If you love luxury, these nail decorations are for you.
One of the favorite women's color combinations is certainly a combination of black and white.
A regular, classic French manicure is no longer so interesting, but its variations in terms of color and ornaments are very popular.
Purple, pink, nude, white and gold. Five colors but so elegant and definitely manicure with style.
Brave ladies who like to look modern and attractive will proudly bring neon colors on their nails.
At the top of the styles, when it comes to haircuts and when it comes to nails, it has been ombre for years. Although it is predicted that its popularity will decline, it didn't happen yet..
Short nails can also be nice, seductive and attractive.
The white blue combination reminiscent of the sea depths and many ladies choose when they go on vacation.
A joyful and sweet manicure with details like roses is chosen by the ladies of all generations.
Although they announce the end of the popularity of too long spiky nails, they will always have sympathizers among ladies.
Anti-aging care does not only mean the anti-wrinkles care of the face, but also the care of the whole body and the nails also. Nails are very gentle and if you do not eat healthy, do not move and you have bad habits of life that will affect them.
Royal dark red and sumptuous golden color for the royal look.
One of the newer trends is jewelry for nails, like these laces.
White manicure decorate with the colors that are available to you and which you currently have in your purse. Any color will make white manicure more interesting.
Use a few nails to do a larger image, let each piece of the image be on one nail. Such a manicure will certainly not be unnoticed.
For masquerade, Halloween or similar events, find your inspiration in nail art such as this.
Baby blue and baby pink colors are a popular combination as well as black and white.
The mild, pastel gray color fits nice on hands. The milky gray color will give your hands a freshness and surely everyone will like it.
If you do not know how to decorate your nails, one gold or silver rhinestone at the nail root will be enough to achieve the desired effect.
Plaid design is almost always worn, and each year this design finds its place in the fashion industry.
A juvenile colored nails that will be ornament of some girl hands.
Over time, nails become yellow, brittle and fragile. Try to have good living habits. A long use of dark nail polish can leave stains on them.
Massage your nails with sugar, olive oil and lemon. Sugar will contribute to smoothness, olive oil moisture, and lemon will gently bleach them.
The middle length of the nails is the best and most practical. Long nails are beautiful but aren't for every day, it will make it difficult for you to perform many activities.
Choose the colors of the nail according to the mood, according to the season and the wardrobe you wear.
Details like those that resemble our grandmothers' tablecloths will be very popular this year.
Geometric shapes, lines, triangles, will find a place in manicure this year, too.
If you use dark lacquers, apply a transparent lacquer layer before applying a dark nail polish, so that you will prevent darker spots after some time.
Nude colors are very popular. Add them some detail and shine girl!